Crittenden Estate – Pinot Noir
Barry Weinman: 18th November 2015
Wines made with Pinot Noir are some of the most challenging to make. That said, there are a few winemakers in Australia who have mastered the art, including the likes of Phillip Jones at Bass Philip and Mac Forbes.
Rollo Crittenden produced an excellent range of wines in 2012, from a vintage that was widely acclaimed across the region. The release of the 2013/2014 wines presented an excellent opportunity to get a further glimpse at how the wines at Crittenden Estate are progressing.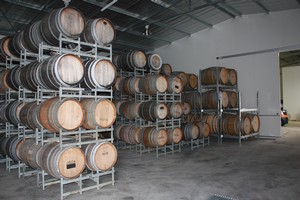 Barrel Hall at Crittenden Estate*
What struck me about all the wines reviewed was their drinkability. From the entry level Geppetto, to the powerful Zumma, there was an immediacy to the wines that was attractive and moreish. With the exception of the Geppetto, all the wines will benefits from a few years in bottle, but they are drinking well now.
Reviewed

Crittenden Estate – Pinot Noir – Geppetto – 2014. (17). A touch closed and subdued on the nose initially. The palate is refined and elegant, with pretty fruit balanced by fine tannins and supple oak. Cherry and menthol come to mind. Soft and supple, this is an uncomplicated wine that is good drinking. (RRP $24).
Crittenden Estate – Pinot Noir – Peninsula – 2014 (17.7). Whole bunch notes on the nose, over sour cherry fruit. The palate is taut and muscular, with fine tannins and texturing oak shutting down the fruit. Everything is in place, but this needs a year or two to hit its straps. ($34 from the Winery)

Crittenden Estate – Pinot Noir – Kangerong – 2013 (17.8). A heady nose that combines perfume with fresh red berries and a jube-like lift. The palate is soft and plush, with soft tannins, quality oak and gentle acidity. Great drinking now. ($40 from the Winery).
Crittenden Estate – Pinot Noir – The Zumma – 2013 (18). Powerful, high toned fruit on the nose. The palate has dense fruit, with souring cherry and satsuma plum overtones. Slightly chewy tannins add textural oak adds interest. A serious wine that is drinking very well now, but will cellar for at least 5 years. ($57 from the Winery).
* Images courtesy of the Crittenden Estate Website: http://www.crittendenwines.com.au/