Wine Reviews By Barry Weinman
Wines of the Week

Salena Estate – ex-PRESS.ion – Shiraz – 2019. Precise and focussed fruit complemented by coffee and mocha notes. The palate is an explosion of deliciously ripe fruit, with the tannins and oak adding texture. Not as structured as the Shingleback but more immediately impactful and moreish. An affordable, well-made user-friendly wine. A BBQ champion from the Barossa. 93pts – $30 (Dec 23b).

Shingleback – The Gate – Cabernet/Shiraz – 2018. Ripe berry and current, with supple oak support. Perfectly ripe fruit on the palate is silky and fine, with the Cabernet adding structure. The finish is long, supple and elegant, with a drying, textural finish that gets a touch chewy. An impressive wine that deserves time in the cellar. 95+pts – $40. (Dec 23b).

Voyager Estate – The Modern – Cabernet Sauvignon – 2018. Fragrant, ripe and pretty, with a core of berry fruit. The palate is supple, silky, and textured, with near seamless palate transition. Medium bodied in weight, this is a wonderful drink now but ultimately will benefit from a few years in the cellar. 93pts – $45. (Dec 23b).

Quartz Reef – Brut – Méthode Traditionelle – NV. Fragrant, bright, and balanced, with decent texture. Whilst relatively neutral, this is light, fresh and moreish, with gentle toast and brioche notes building on the finish. 62% Pinot Noir/38% Chardonnay. Biodynamically produced. 17.5pts – $40. (Dec 23a).

Delamotte – Brut – NV. A step up in complexity. Lithe and fresh, with a moderate dosage and driving acidity. A fine, elegant wine with excellent mouthfeel and presence. Excellent length supported by a bitter almond finish that adds to the appeal. 18pts – $75 (Dec 23a).

Alexandre Bonnet – Grande Reserve Brut – NV. A richer, more developed style than the Delamotte that whilst complex, remains taut and fresh with fine acid drive and gentle texture to close. Delicious and moreish, with brioche notes to the fore. 18pts – $70 (Dec 23a).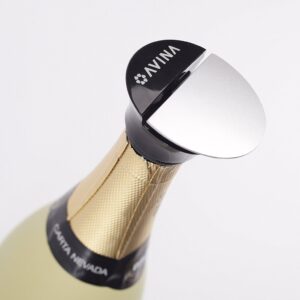 AVINA Champagne & Wine Locking Bottle Stopper ($20 from Winesave) is attractive and versatile. This seals so well that the bottle can be laid on its side in the fridge. It is also the only stopper that works with ordinary wine bottles as well if needed. This is my personal favourite. (Dec 16)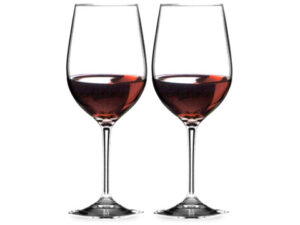 For me, the best all-purpose glass is the Riedel Vinum Riesling Grand Cru/Zinfandel glass. ($40). It makes everything from Champagne to Shiraz taste good, is attractive and is easy to fit into the dishwasher. I have been using this for years at home, and it is surprisingly durable. (Dec 16).

Marri Wood Park – Sauvignon Blanc – 2019. Lifted melon, stone fruit and grassy notes that leads to lemon fruit and acidity that build on the finish. The texture of the palate is a highlight, courtesy of the supple lees and barrel influences. Most importantly, this is a good drink. 17.8/20 (92pts) $28. (Dec 16).
Tahbilk – Marsanne – 2020. Aromatic and lifted, with sherbet, musk and floral fruit. Really quite delicious, if a little linear at present. Experience suggests that with bottle age, the palate will fill out and gain complexity and texture, transforming the wine. An Australian classic and a bargain to boot.  17/20 (89pts) $16. (Dec 16).

Wynns – Cabernet Sauvignon – "Black Label" – 2018. Another amazing wine under this historic label. Intense, pretty floral fruit, that is elegant, balanced, refined and very long.  With a supple and textured mouth-feel, this is delicious now but also sure to build depth and power in the cellar. 18.3/20 (94pts) $40. (Dec 16).
Recent Articles
Barry Weinman: 24th December 2020
Now that the warm weather is well and truly set in for the summer, my mind turns to that great Australian tradition called the BBQ.
Whilst sausages and overcooked steak still make an appearance, the BBQ is now being treated as a serious culinary experience by many Australians.
Barry Weinman: 23rd December 2020
The majority of sparkling wine produced is non-vintage, and this is for good reason. By blending years, producers can make a more consistent (house) style, less impacted by the vagaries of vintage-to-vintage variations in quality that can occur.
Barry Weinman: 16th December 2020
Wondering what to get the wine-fanatic in your life for Christmas? But don't want to break the bank? Well here are a few items that I have rigorously tested though the year and that have become part of my wine life at home.
Barry Weinman: 16th December 2020
Let's be clear: glasses make a difference in two important ways.
The shape primarily affects the aromas that you perceive coming out of the wine related to surface area, as well as how the aromas are concentrated at the top. But the shape also plays an important role in where the wine lands on your tongue, which affects flavour perception as well.
Barry Weinman: 16th December 2020
My wine week has involved tastings across a number of styles, including sparkling wines and Shiraz. I will write about some of these in coming weeks, but I wanted to share a couple of refreshing wines for spring, as well as two Australian classics.
15th November 2020
13th November 2020
I was asked why I continue to review wines from the bigger, more popular wineries. It was suggested that reviewing some of the funky newer producers and styles would be more interesting.
My answer? I review the wines that offer great drinking (or cellaring potential) at their given price point regardless of the producer.
 30th October 2020
Ryan Sudano must surely be one of the most fortunate winemakers in Australia. After all, how many winemakers get to design and build their dream winery from scratch as their first task upon joining a venture?
16th October 2020
Decanter Magazine recently announced the results of their World Wine Awards. Fraser Gallop was awarded Best in Show for their 2018 Parterre Chardonnay (from almost 1,000 Chardonnays!).
11th October 2020
With the imminent release of the 2018 vintage, I took the opportunity to open a cross-section of wines from both 2017 & 2013 for the tasting panel to see how they are developing.
30th September 2020
In the wine industry, like in fashion, styles change over time. What is considered fashionable is often dictated by wine show judges and the major newspaper wine writers.
Barry Weinman: 30th September 2020
Year after year, Leeuwin Estate's Art Series Chardonnay garners a huge amount of praise and attention, and rightly so. After all, this has a long history of being one of the greatest white wines made in Australia, with an enviable 38 vintage history.
Brendan Jansen MW: 24th September 2020
The wines of Burgundy can be as seductive and beguiling as they can be confusing. This small plot of land – with the Cote D'Or comprising only about 13,000 hectares as compared to Bordeaux's over 120,000 hectares – is infused with wine history and intrigue. The still wines of Burgundy, of both red and white incarnations, are widely viewed as the most wonderful in the world of wine. Winemakers around the world aspire to produce wines that can come close to rivalling the best Burgundy has to offer.
Brendan Jansen MW: 15th August 2020
After working at Vasse Felix winery from 1989 to 2006, Clive Otto joined Fraser Gallop wines. This is his 14th year at the helm as chief winemaker. All of Clive's wines, even those that he makes for other growers in Margaret River, have his stamp of elegance and understated austerity.
15th August 2020
At the end of a 25-wine tasting of very high-quality Riesling, I found myself reflecting on just how much I enjoyed the tasting. This was due to a number of factors. To start with, there was the purity of fruit, approachability of the wines and sheer quality of winemaking on show…
Barry Weinman: 31st  July 2020
Penfolds is a brand that needs no introductions. From the humble Koonunga Hill through to Grange, generations of Australians have built their cellars around these iconic wines.
30th July 2020
When I think of versatile red grape varieties, Cabernet Sauvignon does not normally spring to mind. Shiraz, after all, is the ultimate chameleon, thriving in all but the very coolest vineyards in the country.
Barry Weinman: 18th July 2020
I am a huge fan of Riesling, a variety that can also claim the title of best value white wine in Australia. But in the cooler months, Chardonnay is my go-to white.
Faber Vineyard: Celebrating 20 years of Riche Shiraz
16th July 2020
John Griffith established Faber in 1997 after a very successful six-year stint at Houghton.
At Faber, the aim is to craft the best wine possible from grapes most suited to the region in which they are grown. In the Swan Valley, John believes this is Shiraz, Verdelho and Muscat (for fortified wines).
2nd July 2020
World Chenin Day last week was an opportunity to move my focus to the Swan Valley. Chenin Blanc, along with Shiraz are the most important grapes grown on Perth's doorstep. And the panel celebrated with extraordinary tastings.
25th June 2020
Grenache is a most versatile variety. Originating in Spain, but made famous by the wines of Chateauneuf-du-Pape, Grenache was the most widely planted red variety in the world until the late 1990s.
Larry Cherubino first came to attention in the late 1990s as senior winemaker at Houghton. Larry oversaw an expansion of the range, and was responsible for making some brilliant (and great value) wines from across the state. The 1998 Moondah Brook Cabernet is still brilliant drinking for example.