Recent Tastings
16 February 2022
Western Australian wine is a bargain on the world wine stage. With the great wines from France selling for upwards of $1000 per bottle, the likes of Cullen, Leeuwin and Vasse Felix are very good value by comparison.
16 December 2021
This is the first time that I have tried the wines and the outcomes are very impressive. Overall, the wines are clean, fresh and very well made in a modern style. There was also excellent consistency of quality across the range.
27th March 2021
Whilst it is good to be able to review wines from a cross-section of producers, there are some wines that justify being reviewed each year, as they form the standard by which all other producers are judged.
Premium Chardonnay – First Impressions
25th February 2021
This was one of the more interesting tastings that I have done recently, as it gave me the opportunity to review a number of current release wines, as well as several excellent wines that will not be released for some time.
Barry Weinman: 18th July 2020
I am a huge fan of Riesling, a variety that can also claim the title of best value white wine in Australia. But in the cooler months, Chardonnay is my go-to white.
Barry Weinman: 18th March 2020
In recent years, Cullen's Kevin John has been one of my favourite Chardonnays from Margaret River, holding its own against the region's best. So the release of the 2018 vintage is eagerly anticipated.
25th November 2019
When rating and reviewing wines, there are a number of points systems in use globally. This includes scoring wines out of 5, 20 or 100. On top of this some reviewers use a "star" system, whilst wine shows use gold, silver and bronze medals to demonstrate different levels of quality
Barry Weinman: 24th June 2019
I love Chardonnay. If I had to choose just one white wine style to drink, this would be it. Part of the appeal is the versatility that the grape affords. From zesty, racy unoaked styles made famous by Chablis, to the powerful rich and textured White Burgundies, there is a style for every occasion.
Barry Weinman: 4th May 2019
There has been much written about Australian Chardonnays over the years, documenting the changing styles and fashions. In the 1990s the trend was for big, ripe, buttery Chardonnays, with plenty of oak. This evolved over the 2000s, with the fruit richness and oak flavours gradually being wound back.
27th February 2019
Until recently, the world hierarchy of Chardonnays went something like;
White Burgundy
Chablis
Everything else
But as in the rest of life, nothing stays the same for ever, and so it is that the current crop of Western Australian Chardonnays are of such high quality, that they must be considered a worthy challenger to the white wines of Burgundy. When price is brought into the equation, then no other region can even get close to matching the value on offer.
Value for money Chardonnay can be elusive, so the panel was pleased to be able to recommend four wines at a range of prices that will make for excellent drinking this summer.
Barry Weinman: 8th November 2018
For a number of years now, John Jens at Lamont's has been importing a number of producers' wines direct from Burgundy. This has allowed him to keep the prices down, by removing the costs associated with having a broker, importer and local wholesaler all taking a margin.
20th October 2018
Vasse Felix's recent form with Chardonnay continues with the excellent 2016 vintage. The other highlight was the Suckfizzle. This is the first time that I have seen a Chardonnay under this label and it is an excellent effort. The very cool climate fruit is a contrast in style to the Vasse Felix and would take 5 years in the cellar with ease.
10th September 2018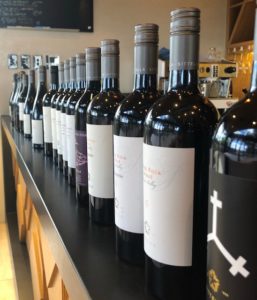 The Berns Family started Sittella with the purchase of land in the Swan Valley in 1993 that now houses the winery and vineyards. They subsequently bought and sold (in 2003) a vineyard in Margaret River, before purchasing their definitive Margaret River vineyard in the Wilyabrup sub district in 2010. This is a mature vineyard planted on heavy loam/gravel soils.
25th May 2018
With the cooler weather on the way, Chardonnay really comes into its own. The trick for me though, is not to serve high quality examples too cold. This is especially true of the modern, leaner styles. Served too cold, all of the fruit is lost whilst the acid is accentuated.
12th November 2017
The new Cape Mentelle Chardonnay was a revelation. It seems that the style has evolved slightly under the stewardship of Frederique Perrin, showing a bit more generosity and allowing the fruit quality to be showcased.
And then there was the Howard Park Allingham Chardonnay – brilliant!
Barry Weinman: 4th August 2017
This tasting highlighted the various styles of Chardonnay that are on the market now. Gone are the days of the fat, buttery wines, with a move to more restrained and elegant wines.
Chardonnay – New Release – May 2017
Barry Weinman: 25th May 2017
Margaret River is blessed to be able to produce world-class Chardonnay, and this tasting highlighted the quality of some of the top wines.
Barry Weinman: 7th May 2017
The Kevin John Chardonnay is the wine that has really caught my attention in recent years, with a succession of excellent wines. What impact biodynamics has had I can't say, but I now rank this amongst the region's finest.
8th April 2017
When it comes to making a first impression, the new wines from wine industry stalwart Robert Bowen really stand out. The expensive packaging is very striking (powerful/heavy bottle and strong label), and the Block H Chardonnay is a cracking wine.
27th January 2017
If on a tight budget, I would focus on Riesling for my cellar given the superb value and ageing potential on offer. If money was not a barrier, and I had to choose one white wine to have in my cellar, it would be Chardonnay. The wine's style can vary from lively and racy, to elegant and refined, then all the way to rich and powerful.
25th October 2016
Top quality Chardonnay is one of the world's great wines, capable of possessing depth and power, yet retaining balance and a degree of elegance. Unfortunately, it has also been expensive, particularly when compared to the best Australian Rieslings.
Part One – Chardonnay
4th May 2016
When I think about producers of Chardonnay and Cabernet in Margaret River, Xanadu must now rank amongst the best of them. This is as a result of the consistently high quality wines that Glenn Goodall and the team have produced over the last 3 – 5 years.
Barry Weinman: 30th March 2016
In November, I previewed the wines of Cloudburst and came away with a great deal of respect for what the winery is trying to achieve. So I was really pleased when the 2014 Chardonnay showed so well in this masked tasting. A very fine and elegant wine, and also possibly the most expensive Chardonnay in the country.
Barry Weinman: 25th February 2016
When it comes to Western Australian Chardonnay, Leeuwin Estate's Art Series has long been the benchmark by which others are compared. The newly released (1st March) 2013 vintage is yet another great wine under this label.
21st February 2016
Jeff and Amy Burch have been involved with Howard Park winery since 1993, overseeing a significant expansion, which included the establishment of the Margaret River vineyards and winery.
31st January 2016
John Streicker, a New York based entrepreneur, has gradually been building a stable of older vineyards across the Margaret River region. This culminated in the purchase of Clairault winery in 2012. Bruce Dukes who had been making the Streicker wines at Naturaliste Vintners, was entrusted with the production of Clairault wines following the acquisition.
18th October 2015
In her time as winemaker, Virginia Wilcox has consistently produced wines of such high quality that Vasse Felix now rightly sits as one of the top few wineries in the Margaret River Region.
My love affair with Western Australian Chardonnay shows no sign of ending any time soon. Whether the fruit comes from Margaret River, Porongurup, Denmark or Mount Barker does not seem to impact on the quality. In fact, some, like Howard Park, blend fruit from several of these areas.
5th March 2015
The team at Deep Woods continues to produce cracking wines. This time it is the turn of the Reserve Chardonnay to shine.
Reviewed: December 22nd 2014
When it comes to white wines, Riesling is the undisputed value king. These are high quality wines that are very age-worthy, especially under screw caps. That said, for me at least, Chardonnay has the potential to be the greatest of all white wines.
Reviewed 21st September 2014
It was great to see the Patterson's Vineyard name appearing on the label of the 3 Drops Chardonnay. The Patterson family produced excellent wines for years under their own label, before selling the business for personal reasons (situated in the Mt Barker region).
6th September 2014
Whilst the majority of the wines in this tasting were recent releases, there were a couple of iconic wines slipped in that proved to be a real highlight.
Whilst I have reviewed Vasse Felix's 2012 Heytesbury previously, it was not in a blind tasting. Here, the wine proved to be the star in a very fine lineup.
31st August 2014
Xanadu (noun): An idealized place of great or idyllic magnificence and beauty
Oxford Dictionary
Starting life as Chateau Xanadu, the Lagan family planted their first vineyard in 1977. Many good Cabernet-based wines were produced by the winery over the subsequent two decades. However, their listing on the Australian Stock Exchange in 2001 (and subsequent expansion), coincided with a difficult period for the winery that is now simply known as Xanadu.
Reviewed: 8th November 2013
This was a fascinating tasting that highlighted the quality and diversity of chardonnays being made in Australia.  From the taut austerity of the Devils Lair, the balance of the Frankland Estate, to the richness and depth of the Singlefile, they are all quality wines.
Reviewed 27th August 2013
I continue to marvel at the current quality of Australian chardonnays.  Never before have the wines been so elegant, refined and desirable.  Ten years ago, there were a mere handful of wines that I would seek to drink, preferring to look to Burgundy for examples of fine chardonnay.
Reviewed: 10th May 2013
Leeuwin Estate rightly has a reputation for producing one of Australia's top few Chardonnays. When you combine the inherent quality with an unrivalled ability to age, I rate it as the country's best.
As with almost all Leeuwin Estate wines, the chardonnay is held back in the cellar to allow it to come together before being released. This means that at a time when many wineries are selling their 2012 whites, we gathered to try Leeuwin Estate's 2010 Chardonnay that is about to be released.
Reviewed: 10 February 2013
This tasting again highlighted the evolution of Australian Chardonnay. Earlier picked and lower in alcohol, these wines can be quite thrilling. The Howard Park and Squitchy Lane are excellent examples.
The Killerby sits in the middle, having more richness to the fruit, yet retaining elegance and subtlety. Delicious stuff.
Reviewed: 30 January 2013
An interesting point came up for discussion during the tasting came when one panellist berated me for not giving the white Burgundies higher points. He pointed out that the wines had only recently landed and will undoubtedly be better in a month or two's time when they have settled.
Reviewed: 20 December 2012
Overall, this was a smart line-up that threw up some real surprises. The highlight was the Hardy's Oomoo. Who would have thought that a cheaper chardonnay could develop so well. It makes me think that a case of the Angove tucked away for a few years would be worth a punt, given how well it showed.
From a current drinking point of view, two wines stood out: The Willow Bridge and the Yerring Station. They are both delicious, though ultimately, the Yerring Station is the better wine, (and twice the price).