Winery in Focus: Ostler
Barry Weinman: 28th April 2016
Central Otago Pinot Noir is often defined by purity of fruit combined with a degree of generosity This combination makes for great drinking wines that can also age well in the short to medium term.
The Pinots from Ostler continue this theme, but in addition, there is an earthy/ meaty component expressed in all their Pinots.
At the time of writing, limited stocks of the older wines are available in Perth.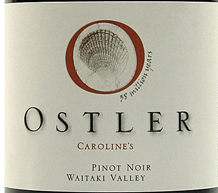 Reviewed
Ostler – Riesling – Lakeside – 2013 (17.5 – $33). Floral, sweet fruit that is musk-like and very attractive. The palate is bright, with the musk giving way to a core of lemon and lime. Long, the finish has an almost chalk-like texture and excellent balance. There is a touch of honey on the close.
Ostler – Pinot Gris – Audrey's – 2013 (17 – $35). Nutty, almost grassy fruit, more in a Grigio style. The palate is oily, viscous and textured. A savoury wine that will sit well with fresh antipasto. A touch more cut-through would see this get higher marks.
Ostler – Pinot Gris – Audrey's – 2014 (17.5 – $35). A more floral style that has pretty fruit and structure. The palate is fresh, with fine acidity playing nicely against the subtle residual sugar and a touch of phenolic richness. A refreshing style that will be great on its own, or with richer food.
Ostler – Riesling – Blue House – 2012 (17.8 – $30). Oily and textured, with a core of minerality and touches of oily/petroleum notes. The palate is moderately sweet, but retains lovely balance courtesy of the refined acidity. Long, the floral fruit is more of a feature than the sugar. The hint of marmalade on the close adds to a great drinking wine.
Ostler – Pinot Noir – Blue House – 2013 (17.7 – $34). Decent complexity and power to the fruit, with excellent balance. Chewy and textured, but not overly structured, allowing the fruit to be the primary focus. Nice drinking. Opens up with air and builds depth. A touch savoury on the close.
Ostler – Pinot Noir – Caroline's – 2013 (18.2 – $65). Cherry, spice, hints of smoke and tobacco. The balance is a highlight. There is excellent length, a silky mouth-feel and almost seamless palate transition. With air, the structure builds, adding depth and power to the fruit. Good now, but better in 3 years.
Ostler – Pinot Noir – Caroline's – 2011 (17.9). Colour just starting to show the effects of age. A bit of earthy pong on both the nose and palate, with roast meats, licorice and chocolate. This is a rich, generous wine that is drinking a treat. Not classical in style, but will accompany roast meats well over the coming months.