New World Pinot Noir
Barry Weinman: 20th February 2017
I had a call from a friend recently saying that he was dropping around some wines for me to try. These turned out to be sixteen highly regarded new world Pinots. This was a brilliant way to end a tiring day.
It was a very hot day in Perth and the wines were a little warm, so I popped them into an ice bucket for 20 minutes, just to bring the temperature down a little. Tasting red wine at 15 degrees is so much better than trying them at 25, especially as they tend to warm up in the glass once poured.
The Ata Rangi was the highlight, a stunning wine that is sure to age very well. (The 2002 is drinking a treat now). The Block 5 from Felton Road equally impressive, as was the Paradigm Hill. All amazing wines.
At a completely different price point, the Picardy was the sweet spot in the tasting for price/quality, whilst the Eddystone Point is an affordable entry point into the charms of Pinot Noir.
Reviewed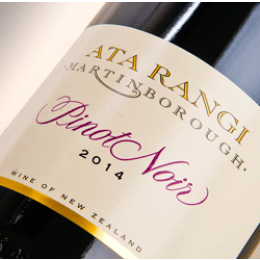 Ata Rangi – Pinot Noir – 2014 (18.8). Everything is in balance here. The complex, deep smelling fruit, polished tannins, fine-balanced acidity and textural oak all sit beautifully on the near-seamless palate. A master-stroke of restraint, yet with latent power that will build with time in the glass. A magical wine, with fine, dense fruit. Powerful, yet restrained, this is a tight/sinewy wine. An iron fist in a velvet glove would be one way to describe this wine Why don't more people make Pinot in Martinborough? (Served from magnum).
Felton Road – Pinot Noir – Block 5 – 2015 (18.7pts $122). Closed on the nose initially. The palate is tight, yet with air, layers of flavour and texture build and evolve. A monumental effort as, despite the power of the fruit, this remains elegant, balanced and finely structured. The flavours linger for minutes, with the fruit and structure playing off each other right to the close, making for a superb drink. (Served from Double Magnum).
Mac Forbes – Pinot Noir – Worri Yallock – 2015 (18.5pts). There is more depth to the fruit here, with the winemaking inputs playing a minor supporting role on both the nose and palate. The dense, high quality fruit is a highlight, carrying the entire length of the palate. An impressive wine that needs several years for the fruit to open, but the potential is there (cork seal).

Paradigm Hill – Pinot Noir – L'ami sage – 2014 (18.5pts). Gentle cherry fruit and spice, thought the fruit does not really feature here and is not missed. This is a textural treat, with the fruit bound by the winemaking inputs and oak, making this near irresistible. Wonderful structure and depth, the fine tannins are a highlight. Will open up with a few years in bottle. The Diam closure is a safe bet.

Marchand & Burch – Pinot Noir – Mount Barrow (Mt Barker) – 2016 (18.3+pts – RRP $60). Opens with a pretty, almost delicate nose, that despite its youth, is quite full/complex. The palate is an amalgam of strawberries, cherries, plum, tobacco and spice. Really quite delicious, this dances in the mouth. The acid, tannins and M   oak hold back the fruit on the finish somewhat, but this has everything in place to shine with short-term cellaring (and achieve potentially higher points).
Craggy Range – Pinot Noir – Aroha – Te Muna – 2013 (18-18.5pts – $120). Very attractive nose, where the complex fruit is complemented by gentle earthy/herbal notes. The palate is more restrained and linear, the tannins, oak and fine acidity conspiring to keep the fruit in check. Delicate for central Otago, with impressive structure, this will do even better with a couple of years in bottle (cork closure).
Picardy – Pinot Noir – 2014 (18pts). I like the forward, generous fruit on the nose. Continues onto the palate, where the fruit is complemented by fine tannins and balanced acidity. This is a serious wine that is really quite good. The mouth-feel builds with air, and a touch of grip adds depth (cork closure).
Mac Forbes – Pinot Noir – Hoddles Creek – 2015 (18pts). Very attractive nose, with the fragrant berries set against a backdrop of complex herbal characters. On the palate, the cool fruit is slightly suppressed, with the winemaking influences (whole bunch fermentation) carrying the length of the palate. Needs a couple of years to flesh out, but will be a great accompaniment to roast meats. I love the Adreaseal closure.
Eddystone Point – Pinot Noir – 2015 (17.5pts). Pretty, floral fruit, supple structure and fine acidity make this an excellent drink. The bright cherry and plum-like fruit has moderate complexity, with the oak adding texture and depth. A couple of years would not hurt either.