New Release Shiraz – August 2017
Barry Weinman: 8th August 2017
Howard Park seems to be on a roll at present, with Janice McDonald in control of the winemaking. Recently, their wines under the Madfish label impressed the panel, but this time it was the turn of the Scotsdale and Leston Shiraz to steal the limelight. The drinkability of the Scotsdale (Great Southern) resulted in a slightly higher score, but both are excellent.
Leeuwin Estate also contributed a fine example of accessible cool-climate Shiraz, whilst the wines from Graylin and Cape Mentelle were tighter and restrained, needing years in the bottle.
At the budget end of the spectrum, the Wolf Blass Red Label is a fun, easy drinking wine (though personally, I would pay an extra dollar or two and buy their Yellow Label Shiraz).
Rounding out the reviewed wines was excellent South Australian Shiraz from two wineries that I had not seen before. I know nothing about Te Aro (Barossa), while Woodvale is a new label from Kevin Mitchell in the Clare Valley.
Reviewed

Howard Park – Shiraz – Scotsdale – 2015 (18.6pts – $46). Refined, elegant, finely structured and precise. Lovely fruit notes balanced by fine tannins and supple oak. Blueberry fruit is balanced by souring plum. Silky, long and near seamless this is delicious yet age-worthy. Excellent fruit and winemaking on show.

Howard Park – Shiraz – Leston – 2015 (18.5pts – $46). Supple cherry and plum fruit with licorice, cinnamon and spice. The mouth-feel is a highlight, with souring acidity and fine, texturing tannins. Bring on the steak, or ten years in the cellar.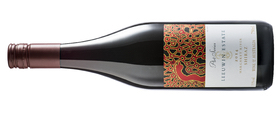 Leeuwin Estate – Shiraz – Art Series – 2014 (18.5pts – $46). Very seductive nose full of red berries and plum. Supple and silky on the palate, yet retains drive and focus courtesy of the fine tannins and acidity. Irresistible; this requires no accompaniment, yet the tannin backbone will support medium term aging. ($36 at the winery)
Gralyn – Shiraz – Reserve – 2012 (18.3). Taut, refined, elegant. Cool region fruit that has red currant, licorice and gentle herbs. The mouth-feel is superb, with the feathery tannins and oak sitting tight with the fruit. Excellent length aided by souring acidity. Food friendly, yet age worthy. At only 12.4% alcohol, this is a remarkable wine.
Cape Mentelle – Shiraz – 2014 (18pts). Cool region fruit that is ripe, yet restrained, with tar, licorice, spice, black fruits and hints of forest floor. Textured and youthful, with chewy tannins to close. An impressive and age-worthy wine that should score higher points in years to come.
Scotchmans Hill – Shiraz – 2013 (18pts – $39). Inky, aromatic and savoury, with iodine notes. A dense and powerful wine that is a little different to the norm. The savoury notes give it an Italian feel, and this is sure to partner rich meat dishes well. Great drinking.

Te Aro – Shiraz – Charred Door – 2014 (18pts – $38   ). I really like this. Mint and eucalypt notes accompany the perfumed bright berry fruit characters. Supple mouth-feel, where the fruit is the main focus. The fresh acidity adds drive and will cut through rich sauces with ease. Excellent length of flavours. From the Barossa.
Woodvale – Shiraz – Spring Gardens – 2014 (18pts). Blueberry, spice and licorice on both the nose and palate. Made in a more approachable style, where the fruit is given primary focus and is balanced by savoury oak and tannins. Excellent drinking now, but also in 10 years. Made by Kevin Mitchell of Killikanoon fame (check out the oversized bottle).
Wolf Blass – Shiraz – Red Label – 2016 (17.5pts – $14). Pretty berry fruit that is both succulent and slurpable. Not overly serious, but a delicious early drinking style with decent length and berry aromas.