Sparkling Wine Masterclass with Winemaker Ed Carr
Barry Weinman: 4th March 2018
Ed Carr is the undisputed king of sparkling wine in Australia, with over 25 vintages under his belt. Over this time, he has learned that climate has a greater impact on sparkling wine than soil. A southern latitude or high altitude provides the conditions for cool climate viticulture in Australia. Ed suggests that for every 100 metres of elevation, there is a corresponding one degree drop in temperatures.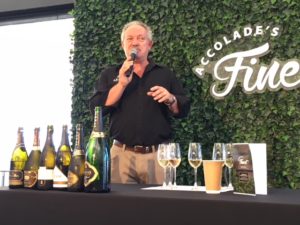 This has led Ed, and the team at Accolade to focus their sparkling wine efforts on Tasmania (Arras and Bay of Fires), as well as select vineyards in the Adelaide Hills (for Croser).
Established in 1995, the first vintage of Arras was in 1998, which was released in 2002. To celebrate the 20th Anniversary of the winery, Arras has released 300 bottles of recently disgorged 1998 vintage at $350/bottle. If the quality of the late-disgorged 2002 is anything to go by, this will be a great wine.
Given that the "standard Arras" range sells for between $40 and $160 per bottle, it would be reasonable to ask if they are worth the money. After all, you can buy very good French Champagne at these prices. The answer is a definitive yes, the quality being right up there with the best France can do. This view is supported by the show judges, with the wines receiving numerous awards in the show circuit.
The critics are also impressed, with Halliday giving all the vintage wines between 96 and 97 points, whilst Huon Hooke gave the 1998 Anniversary wine 98 points!
It should be noted that the wines of Arras are not Champagne clones. They are high quality sparkling wines with a style that reflects both the climate where the grapes come from, but also the vision of the man making them. All of the vintage wines are outstanding, with the Blanc de Blanc being a personal favourite.
Reviewed
Yarra Burn – 2015 – Pinot Noir/Chardonnay/Pinot Meunier – 2015. Quite a rich, fruit-driven style, with layers of autolysis (brioche/ bread dough) adding depth. Not overly complex, but has good presence, with the acid adding length (dosage = 10g/l, spends 2 years on lees).
Croser – Vintage – Pinot Noir/Chardonnay – 2013. More restraint and elegance here, with the apple-like Chardonnay and berry notes making an impact. Fine, textural, long and elegant, with a supple, drying finish. 30% of the wine was aged in old oak which adds a nutty texture. The wine spent 3.5 years on lees, and has a modest dosage of 6g/l (liquored using aged Chardonnay).
Bay of Fires – Tasmanian Cuvee – Rose – NV. Just stained with salmon colour. A pretty wine that is subtle and elegant, yet possesses depth and complexity on the palate. Excellent length and mouth-feel, with a refreshing/drying finish that could even take food. The base wine for this was from the 2010 vintage. Dosage is around 9g/l, and the addition of red wine gives the colour and strawberry fruit.
Arras – Grand Vintage – 2008: A step up in both intensity and depth. Subtle autolysis notes add interest to the palate, which is a treat. Rich fruit and bright, lemony acid combine on a long, textured palate. Real power to the fruit, yet this remains elegant and poised, with the acid adding balance. (65% Chardonnay, 35% Pinot Noir, 9 years on lees, 10% of base wine aged in oak, dosage = 6g/l).
Arras – Blanc de Blanc – 2008. Similar power to the Grand Vintage, but with more noticeable stone fruit characters. Peach and nectarine are complemented by texture and depth on the palate. A superb wine that is still fresh, yet has excellent complexity. Different to a French Champagne and worth seeking out.
Arras – Rose – 2006. Pretty red fruits and great elegance define this wine. The intensity is dialled back a little, and bottle age has allowed the wine to open up. Try it with crispy skin salmon.
Arras – E.J. Carr – 2002 – Late Disgorged: Amazingly youthful and restrained, yet there is great finesse and power to the citrus/apple fruit. This is the same wine that was used in the 2002 Grand Reserve, however it was only disgorged in 2016. Served out of a magnum.