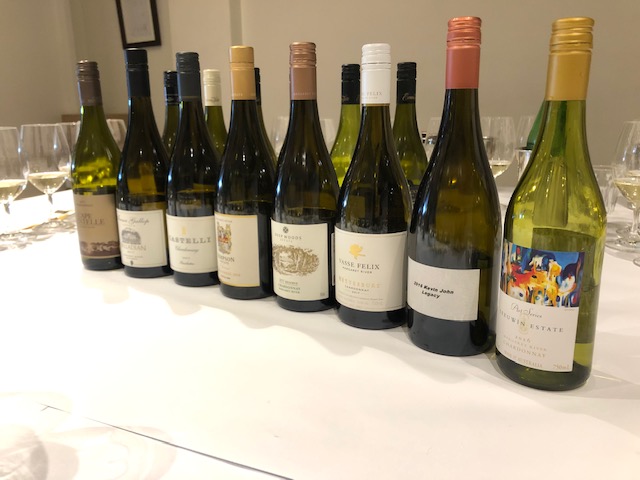 Barry Weinman: 27th February 2019
Until recently, the world hierarchy of Chardonnays went something like;
White Burgundy
Chablis
Everything else
But as in the rest of life, nothing stays the same for ever, and so it is that the current crop of Western Australian Chardonnays are of such high quality, that they must be considered a worthy challenger to the white wines of Burgundy. When price is brought into the equation, then no other region can even get close to matching the value on offer.
From a value perspective, the Xanadu, Evans and Tate and Drumborg were the standouts. The Cape Mentelle turns this up a notch, with reserved power. A simply outstanding wine from the new winemaking team.
Wines like the Deep Woods Reserve are redefining how good Australian Chardonnay can be, whilst the Leeuwin Estate 2016 is destined to be one of the truly great Chardonnays made anywhere in the world.
With the majority of these wines available for under $100, there has never been a better time to try some truly outstanding Chardonnays.
Reviewed
Leeuwin Estate – Chardonnay – Art Series – 2016 (19/20pts). What an extraordinary wine. Barely darker than water right now with subdued/muted fruit notes on the nose. The palate however is amazingly long and intense, with the flavours and textures seamlessly coating the entire palate and lasting for what appears to be minutes on the close. Is this the best Chardonnay yet produced in Australia? It might well be. (Pre-release sample).
Deep Woods – Chardonnay – Reserve – 2017 (18.8/20pts). A very different wine, but just as good as anything in the tasting. Elegance and poise are the keys to this wine. The fruit quality is superb, but rather than being overt and showy, this is refined and restrained. Peach-like fruit is the main focus, with minerality and supple lemony acidity driving the finish. The textural nature of the palate attests to the finest oak treatment. Sublime.
Cape Mentelle – Chardonnay – 2017 (18.7/20pts). Wow. This is a powerful wine, yet remains taut as a drum right now. The intensity of the fruit is amazing as is the way the palate seamlessly transitions from front to back. The white peach and nectarine fruit is superbly matched to high quality, fine grained French oak. Quite superb.
Fraser Gallop – Chardonnay – Palladian – 2017 (18.7/20pts). Again, the intensity of the fruit here is outstanding, but here there is more of the pineapple/tropical notes coming through. The palate is dense and viscous, revealing its flavours and textures in seamless layers on the finish. As good as this is now, it will be even better in 3 years.
Castelli – Chardonnay – Il Liris – 2016 (18.6/20pts – $70). Powerful, expressive wine of great character. Complex aromas of peach, curry leaf, minerality, and struck match. The palate is intense and focused, with the acid and deftly handled oak building in layers over the fruit. This will be a great wine either now or in in 5 years' time. This is sealed with a glass stopper and the fruit comes from Denmark.
Singlefile – Chardonnay – Family Reserve – 2018 (18.6/20pts – $50). An immense, powerful wine with great presence. Tropical fruit, peach and nectarine are all on show in this densely flavoured wine, with expertly managed oak adding texture, yet tis remains elegant and has a very long palate. Outstanding.
Seppelt – Chardonnay – Drumborg – 2017 (18.5/20+pts). An intense, mouth-watering wine that, whilst in a cooler style, has plenty of personality and life. The high quality ripe fruit is long and intense, with a core of lemony acidity that drives the finish. Needs 3 – 5 years, but a very impressive wine.
Evans & Tate – Chardonnay – Redbrook – Estate – 2017 (18.5/20pts – $40). A powerhouse of a wine that is full of youthful exuberance, with intense stone-fruit and citrus notes, taut acidity, supple oak and hints of minerals. Needs a few years to fill out, but this is a star. (Pre-Release Sample).
Howard Park – Chardonnay – 2017 (18.5/20 pts – $58). This is a very impressive wine, with the dense, ripe fruit paired expertly to medium toast, fine grained oak. Stone-fruit, curry leaf/minerality and citrus zest aromas and flavours all shine through. However, it is the depth of fruit on the palate that is most impressive. The finish is a little taut now, so 3-5 years in the cellar should see it start to open up.
Xanadu – Chardonnay – 2016 (18.5/20pts – $39). A serious wine with great fruit weight, density and notable viscosity. Powerful, with ripe peachy fruit, a lovely creamy texture and excellent length. Near seamless, the oak adds to the texture, seamlessly complementing the high quality fruit. Will age well in the short term.