Reserve Cabernet Sauvignon: May 2019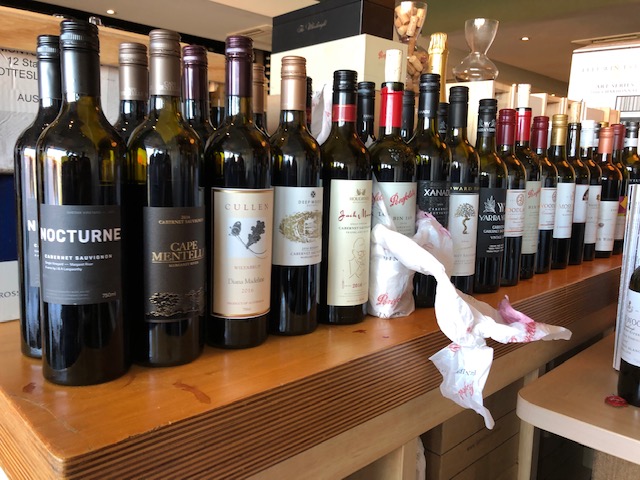 Barry Weinman: 31st June 2019
In the global wine market, Western Australian wines are positively cheap, when quality is factored in. In an effort to lift the profile internationally, a number of producers have released, or are planning to release limited edition Reserve wines at a higher price point.
Cullen's Vanya was at the vanguard of this movement, and has been quickly followed by the likes of Vasse Felix with their Tom Cullity. There is also a stable of fine producers whose "standard" premium wine is of equivalent quality.
The points given in this tasting are quite arbitrary as all the reviewed wines are quite extraordinary.
It has never been a better time to be a wine drinker in Australia!
Reviewed
Deep Woods – Cabernet Sauvignon – Reserve – 2016 (18.5+/20pts – $70). Wow, the fruit here is impressive. Dense and powerful initially, but becoming quite restrained on the finish as the dusty tannins and oak shut down the fruit. Built for the long haul, and likely to get higher points in the future.
Deep Woods – Cabernet Sauvignon – Yallingup Vineyard – 2014 (19/20pts- $130). Wow, whilst almost perfumed, this is big! Intense dark berry fruit floods the palate lingering for what seems like minutes. Ultimately, the fine tannins and supple oak start to rein the fruit back, leaving a drying finish that demands another sip. Great wine!
Houghton – Cabernet Sauvignon – Jack Mann – 2016 (18.7+/20pts). Restrained and elegant, but full of life all the same. Pristine red currant fruit with hints of black cherry and tar. The palate is silky and fine, but needs years to show its best, as the complex, perfumed fruit is quite shy.
Howard Park – Cabernet Sauvignon – Abercrombie – 2016 (18.8/20pts). Wow, spectacular fruit and winemaking! This is supple and balanced, yet is packed full of ripe blackcurrant fruit. The finish gets a little closed, as the very fine tannins build and shut down the fruit. Brilliant, but will be better in 20 years.
Leeuwin Estate – Cabernet Sauvignon – Art Series – 2015 (18.8/20pts – $69). This is seductive and sensuous, with velvety fruit flooding the senses. That said, the acid/tannin balance adds life and depth. Very long and very fine, this is a brilliant wine that could be drunk with pleasure now, but will be best with at least a decade in the cellar. An absolute bargain.
Nocturne – Cabernet Sauvignon – 2017 (18.5/20pts – $40). Intense and perfumed black currant and cassis fruit on the nose, with just a touch of tobacco leaf. The palate shows refined red berries, with hints of liquorice and spice. The fruit is the primary focus, with the oak adding texture on the close. This excellent wine is a side project of the talented Julian Langworthy at Deep Woods.
Penfolds – Cabernet Sauvignon – Bin 169 – 2016 (19/20pts – $350). Wow, I love the perfumed fruit here. Intense, powerful and impressively textured, with extreme length and persistence. Classic Coonawarra Cabernet at its best.
Penfolds – Cabernet Sauvignon – 707 – 2016 (18.8++/20pts – $650). Intense, powerful, closed, tight, firm, structured, textured and chewy. With air, this is like drinking Cabernet essence, such is the concentration of the fruit. Timeless wine that will outlive me.
Singlefile – Cabernet Sauvignon – The Philip Adrian – 2016 (18.7/20pys – $100). Really deep, powerful and concentrated, yet this has grace and balance. On the palate, there is very intense fruit but it manages to show a degree of restraint. The finish is, for all intent and purposes, seamless and the fruit lingers, opening in layers. Amazingly good now, but will be at its best after 20 years+. Very impressive packaging adds to the appeal.
Vasse Felix – Cabernet Sauvignon – Tom Cullity – 2015 (18.7+/20pts). Textured, savoury, earthy and chewy, this is a powerhouse of a wine. Intense blackcurrant fruit and spice combine with grip from the oak to create a wine for the long haul. Sophisticated and stylish, this is all potential right now.
Yarra Yering – Cabernet Sauvignon – Caroudus – 2016 (18.8/20pts – $250). Lithe and fresh in comparison to some of the Western Australian wines, with a purity to the fruit that is breathtaking. A very fine, age-worthy wine that will be at its best with at least 10-15 years in the bottle.
Voyager Estate – Cabernet Sauvignon – MJW – 2014 (18.7/20pts). Supple red berry fruit, fine oak and elegant, restrained tannins express on a very long and fine finish. The fruit builds in layers on the palate. What a great way to end the tasting. A refreshing, youthful, high acid style that leaves you wanting another sip.