Emirates Business Class Lounge Wines: June 2018
Barry Weinman: 15th June 2019
In the course of my work, I spend a large amount of time traveling internationally. This includes regular travel on Singapore Airlines, Qantas, Cathay Pacific and Thai Airways, as well as less frequent trips on Malaysian, Asiana etc.
By far the best wine that is regularly served in Business Class on any of these flights is the Charles Heidsieck Champagne served by Singapore Airlines. A superb wine of great complexity and finesse. Interestingly, I believe the wine being served is a much more recent disgorgement than that which is available in Australia.
For something a little different, I recently flew six sectors on Emirates, becoming well acquainted with the wines being served both in the lounge and on the plane.
On board, there is either Veuve Clicquot or Moet NV Champagne (depending on the sector), as well as two decent whites (including one White Burgundy) and two reds (including a Bordeaux). There is also a 1994 Late-Bottled Vintage Port for those so inclined. But the highlight on each flight was the Sommelier's Selection mentioned at the end of the wine list.
On each flight, this was quite outstanding, being either a super-Tuscan or Napa Valley Cabernet. I would definitely recommend asking the staff about this as, whilst available, is not always offered during the service.
What was really exciting for a wine tragic like me, was the range of wines available in the Business Class Lounge in Terminal 3 at Gate A in Dubai. The first time I visited, I assumed that the wines would be the same at each drink station, so did not go looking. On my second visit though, I realised that there were at least one or two different wines at each drink station. So at 1am in the morning, I found myself wondering around the eight drink stations spread across the two wings of the lounge excitedly exploring the various options.
Of interest, the best wines appeared to be at the quiet end of each of the lounges. It is also worth noting that the wines can change completely from one bottle to the next, so it is worth checking what else is open with the staff.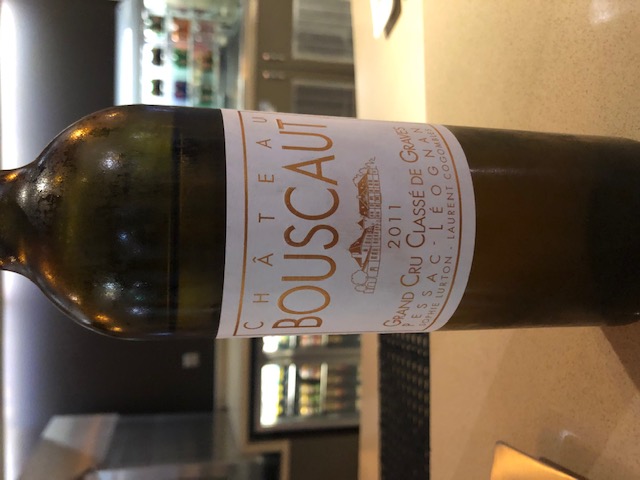 The only Champagne open was the NV Moet, which is not a bad wine by any means. From there, things get much more exciting. There was a cross-section of white Bordeaux that I found very interesting. A highlight was a lovely bottle of 2015 Chateau Carbonieux (complex and refined, with excellent fruit weight), and the excellent Chateau Bouscaut 2011, both of which are Graves Grand Cru. The Tronquoy Lalande 2016 was lighter and more straightforward, but excellent drinking.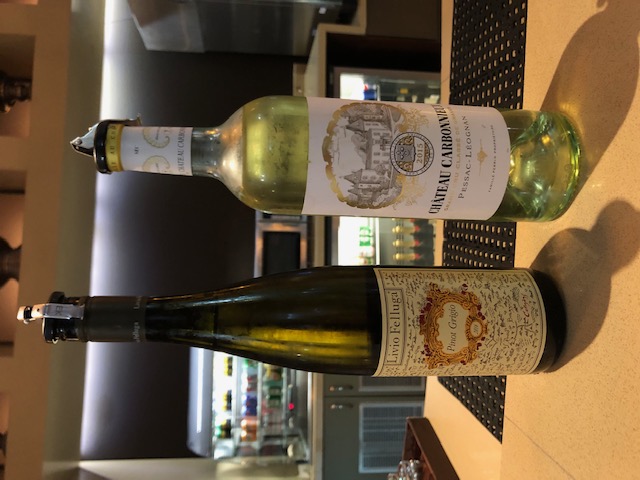 Other whites included a 2016 Pinot Grigio from Livio Felluga that had a most distinctive label, as well as a couple of South African whites and a Penfolds Chardonnay. There was also an excellent Burgundy from Domaine Roux Père & Fils. The Saint Aubin – 1er Cru – Vieilles Vignes 2017 is fresh and bright, with ripe stonefruit and textural winemaking influences. An excellent wine from an under-rated region in Burgundy.
For me, the highlight of the whites was Antinori's Cervaro della Sala 2016. Castello della Sala (now owned by Antinori) is considered by some as one of the great white wines of Italy, and if this bottle is typical, then who am I to argue? Very refined and polished, with ripe peach and apricot fruit combined with a creamy mouthfeel from the oak and lees work. A textural treat that would be as good with food as it was on its own. Superb!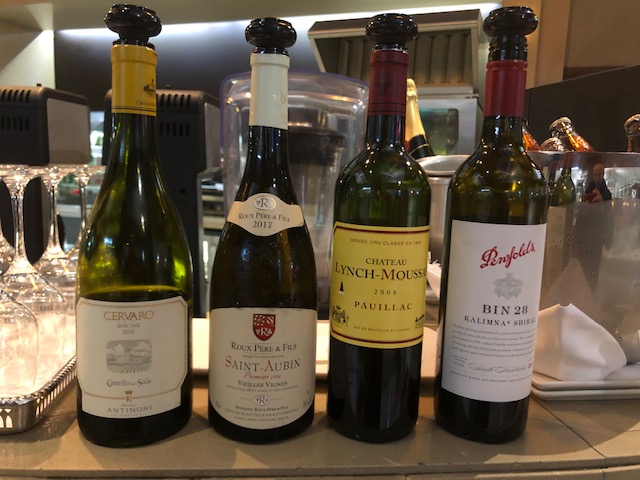 An interesting counterpoint to these wines was the 2014 Opalie by Chateau Coutet. This has clear links to sweet Sauternes, having hints of botrytis and honey, though the finish feels very dry.
The reds were just as exciting, and included two contrasting wines from Bordeaux. Clos Du Marquis (Saint Julien) is a second label (as opposed to the second wine) of Leoville Las Cases. On this occasion, the 2007 was available. From a difficult year in Bordeaux, this is an excellent result. Whilst the fruit is relatively subdued, the structure is classic Bordeaux and is drinking well now.
By contrast, the 2008 Lynch Moussas (5th Growth – Pauillac) was bursting with ripe, almost succulent fruit. An excellent wine from this revitalised estate.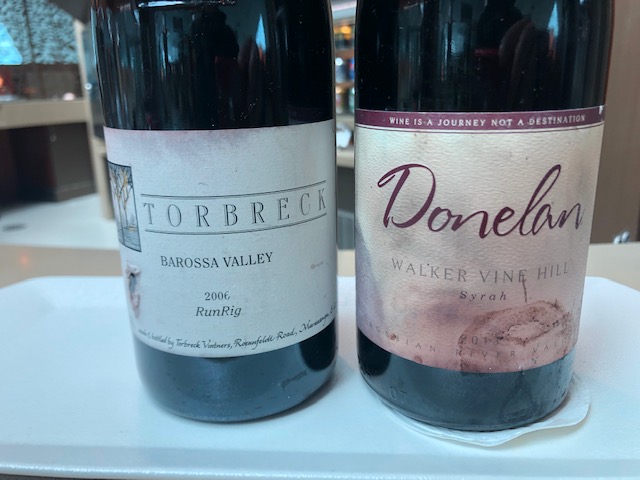 For Shiraz lovers, the Torbreck Run Rig 2006 was already drinking a treat, with the extra bottle age allowing the structure to soften considerably, while the Donelan Walker Vine Hill Syrah 2013 was full of pretty berry fruit with very fine structure. Both were excellent wines!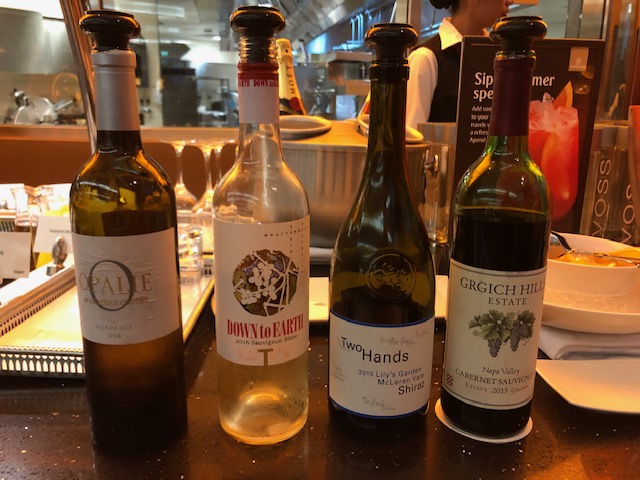 The highlights for me came from the truly excellent 2013 Grgich Hills Estate Cabernet Sauvignon from the Napa Valley and the dense/powerful 2013 super-Tuscan from Collazzi (labelled Toscana).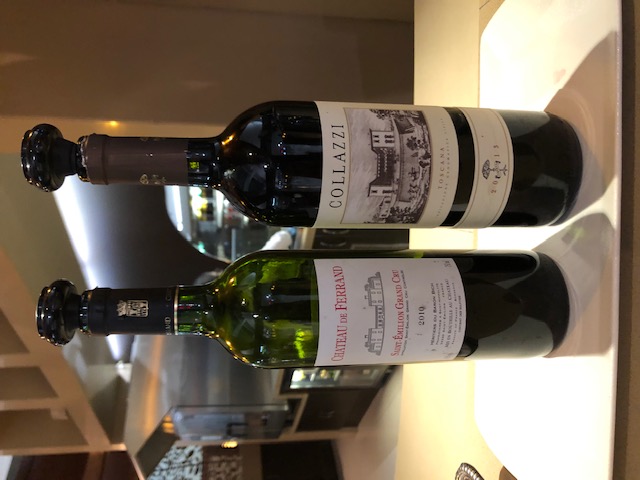 So next time you are transiting in Dubai, I highly recommend that you take some time to wonder around the lounges exploring the wines on offer. You will not be disappointed.