Lindeman's Coonawarra Trio
The Three Musketeers
Barry Weinman: 5 September 2015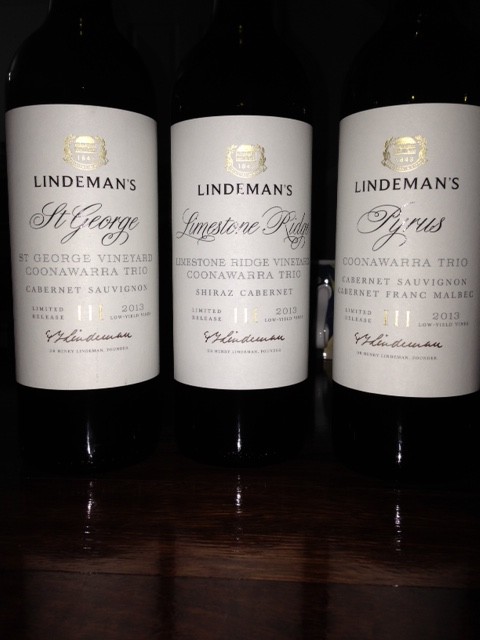 Lindeman's has a proud history of producing some of the best Cabernet based wines in the country from the famous Coonawarra region of South Australia. In the 1980s and 1990s, no cellar would be complete without a cross-section of these wines (and the wines from Wynns).
For some reason, these wines have flown under the radar for the last few years. Whilst other brands in the Treasury stable have gone from strength to strength (Penfolds and Wynns for example), I have seen very few wines from Lindeman's over the last decade or so.
So to have these wines turn up in one of our "blind" panel tastings brought back fond memories of the great wines of the last century and amply demonstrated the quality of the current batch. With an RRP of around $80, these wines are not cheap, but I note that they are available from Dan Murphy for around $55.
All three were excellent, if a little different in style. The Pyrus offers the most immediate drinking pleasure, the St George the greatest longevity and the Limestone Ridge demonstrating how good Shiraz/Cabernet blends from Coonawarra can be.
Reviewed
Lindeman's – Shiraz/Cabernet Sauvignon – Limestone Ridge – 2013 (18.6). Classic cool-climate fruit characters, with mint and eucalypt over ripe, berry fruit aromas. The palate is refined, elegant and near seamless. The savoury oak adds depth and texture, whilst the tannins are polished and refined. There is excellent acidity, which keeps the finish fresh and alive, whilst also ensuring longevity. Very good indeed. (RRP $80).
Lindeman's – Cabernet Sauvignon – St George – 2013 (18.7). Beautiful, deeply scented fruit on the nose. The palate is precise and fine, with dense fruit and a touch of peppermint. The savoury oak adds to the textured palate, with almost chewy tannins. A finely crafted, powerful wine with excellent length. A fantastic wine that deserves years in the cellar. (RRP $80).
Lindeman's – Cabernet Sauvignon/Cabernet Franc/Merlot – Pyrus – 2013 (18.3). (RRP $80). Impenetrable colour. The fruit here is rich, dense and layered. This is actually quite fruit forward, allowing for immediate pleasure. The fine tannins and supple oak serve to highlight the fruit quality. A delight to drink, though sure to age well anytime over the next 10 years.