Bordeaux – 2005 Overview
Barry Weinman: 14th September 2015
Jeff Burch, proprietor of Burch Family Wines (Howard Park, Madfish etc), recently hosted a tasting of a cross-section of 2005 Red Bordeaux, in conjunction with Sommeliers Australia. The nine wines came from a number of the major communes, in an effort to demonstrate the stylistic differences that can be expressed across the region.
The 2005 vintage is considered to be one of the great vintages of the last 20 years, with both the left bank and right bank wines excelling. The inclusion of the 2005 Abercrombie from Howard Park provided a new world comparator, to provide perspective.

In a line-up of superb wines, there were a few that shone just that bit brighter. Tasting the Pichon Baron was akin to a religious experience. A profoundly beautiful wine. This was closely followed by the Ducru and Rauzan Segla.
Jeff generously donated the wines for this tasting, for which I am very grateful.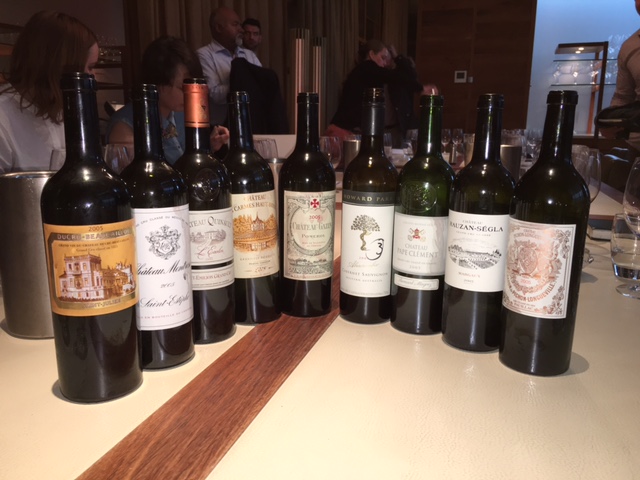 Reviewed
Chateau Quinault – L Enclos – St Emilion – Grand Cru – 2005 (18pts). Pretty floral and blueberry fruit over savoury, earthy notes. The palate is fine and very long. The blueberry fruit gives way to dusty/earthy notes and drying tannins. Near seamless and very enjoyable.
Chateau Gazin – Pomerol – 2005 (18.5+). Lovely richness and intensity, with dark fruit characters tending to blackcurrant. The palate is complex and earthy, yet remains fine, elegant and silky, with supple tannins and a seamless palate transition. Very long.
Howard Park – Abercrombie – 2005 (18.4). Whilst the style of this wine is somewhat different, there is no denying the quality. More primary fruit, with pretty floral aromas giving way to red berries, mint and cedar. Very long and tight, this needs years to hit its best. (75% Mt Barker/25% Margaret River).
Chateau Montrose – St Estephe – 2nd Growth – 2005 (NR). Perhaps not the best bottle. The nose is quite earthy and rustic, yet there was great fruit hinted at. The palate is silky, fine and delicate, more akin to Burgundy than Bordeaux.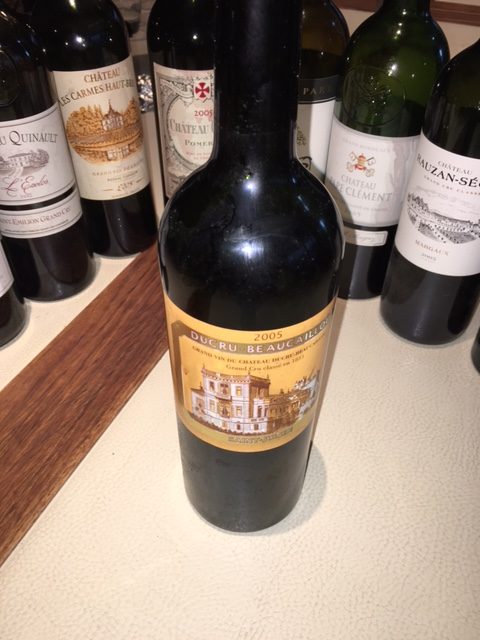 Chateau Ducru Beaucaillou – St Julien – 2nd Growth – 2005 (18.8). A lovely wine. Elegant, refined and enchanting. Violets and floral berry fruit, with depth and complexity. The palate is outstanding! Pretty fruit, elegance, balance and length, the souring acidity adding drive.
Chateau Les Charmes Haut Brion – Pessac Leognan – 2005 (18.7). What a wine! More overt power and darker fruit than the Ducru. The palate is textured, taut and almost gravelly, yet the tannins are refined and polished. Remarkable palate transition and presence.
Split from Haut Brion in the 16th century, this is a small estate (Production est. 2000 cases) is principally planted with Merlot and Cabernet Franc.
Chateau Pape Clement – Pessac Leognan – 2005. (NR). Whilst this wine scored 99 from Parker, today was not its day (Not the best bottle perhaps).
Chateau Pichon Longueville Baron – Pauillac – 2nd Growth – 2005 (19.3). Lovely perfume, with blueberries and blackberries set against serious fruit weight and power. The palate is nothing short of spectacular. Such depth and power, yet balanced and refined, with the tannins, acid and oak all melding into the fruit to provide a textural treat. Lingers for what seems like minutes. Drinking this wine was a near religious experience.
Chateau Rauzan Segla – Margaux – 2nd Growth – 2005 (19). Earthier, with liquorice, spice and cloves over dark berry fruit. The spice notes follow on the palate, with tarry notes. This is the most elegant of monsters, the fruit building and evolving in the glass for some time. May live longer than me!