Sauvignon Blanc and Semillon – New Release
Barry Weinman: 6th February 2016
When it comes to Sauvignon Blanc, either alone, or in combination with Semillon, I prefer the styles that are loosely modeled on the white wines from Bordeaux.
Typically a portion of the blend is fermented in barrel and then left on lees to gain texture and complexity. This may only be 5% – 20% of the total blend, but it is enough to add depth and texture to the final wine.
The 2013 Wallcliffe by Cape Mentelle is an excellent example, and worth seeking out.
Semillon is rarely made on its own in Margaret River. After trying the 2015 Moss Wood, it is clear that it is capable of making fine wine, albeit in a different style to those made in the Hunter Valley.
The commercial reality is that blends are easier to sell than straight Semillon. Vasse Felix, for example have stopped production of their excellent example.
Reviewed
Cape Mentelle– Sauvignon Blanc/Semillon – Wallcliffe – 2013 (17.8). Pineapple and tropical notes on the nose over complex barrel ferment/lees characters that suit the fruit perfectly. The flavours match the nose precisely, with bright acid and textural components carrying the finish. Delicately handled. (RRP $45).
Moss Wood – Semillon – Wilyabrup – 2015 (17.5). Lovely nose with a touch of lantana and grassy fruit. Bright palate with lemon myrtle and crunchy apple. The long, savory finish is complemented by complex barrel-ferment characters. I like this style and it works brilliantly with food. (RRP $38).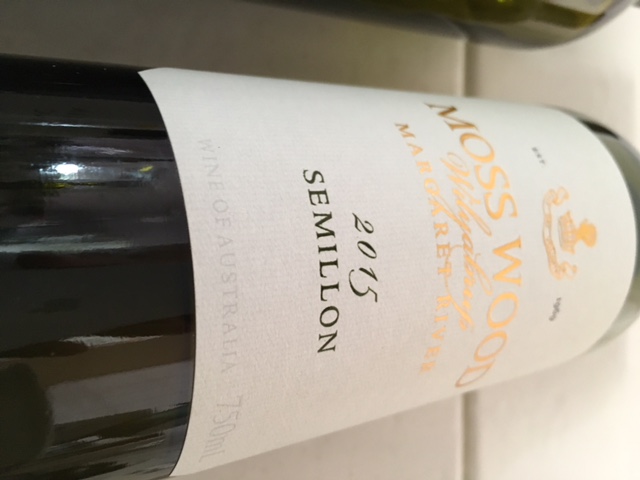 Chateau Martinon – Semillon/Sauvignon Blanc – Entre-Deux-Mers – 2014 (17.2). Lemon Brulee and home made lemonade on the nose. Really refreshing and interesting, with honeysuckle and gentle spice. Long, supple, mouth-filling and delicious.
Howard Park – Sauvignon Blanc – Western Australia – 2014 (17.2). Smart wine. There is degree of density to the lemony fruit and a touch of viscosity. Long, chewy, textured and mouth-filling. (RRP $31).
Flametree – Sauvignon Blanc/Semillon – 2015. (17). Cooler region fruit, with grassy/herbaceous notes. Passionfruit and gooseberry on an approachable palate with decent texture. Hints of barrel fermentation, with refined acidity to close. A smart wine.
Cape Mentelle – Sauvignon Blanc/Semillon – 2015. (17). Textbook example. Refreshing and bright, with just enough texture to make it really enjoyable. (RRP $25).