March 2017 – New Release Shiraz
Barry Weinman: 1st April 2017
A few weeks back, I wrote about the Chardonnays from Bird in Hand, which were most impressive. In this tasting, their Shiraz was the star. Whilst it would be easy to recommend their uber-premium M.A.C. Shiraz at $350/bottle, their standard Shiraz is a standout at $35.

The panel tried a number of wines from Penley Estate. Again, it was the less expensive wines in the range that stood out on the quality/value scale.
Reviewed
Bird in Hand – Shiraz – Adelaide Hills – 2015 (18.5pts – $35). Wow, this is an impressive wine. There is an explosion of concentrated, almost inky fruit, with menthol and aniseed notes over a core of ripe, textured fruit. This is powerful and complex, the flavours coming in layers on the palate. The vanillin oak and tannins are well managed, whilst the acidity has been deftly managed. Great stuff!

Hollick – Shiraz – 2014 (18pts – $25). The bright, quality fruit is a highlight (ripe plum and spice notes) as is the supple mouth-feel (fine texture, lingering tannins, cedary oak and excellent length). This wine received unanimous praise from the panel for its balance and supple mouth-feel. Approachable now, but surely worthy of a few years in the cellar.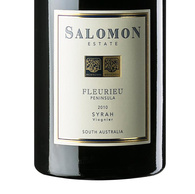 Salomon – Shiraz – Fleurieu – 2014 (18pts) Elegant, pretty and refined wine that has excellent balance. The lighter berry fruit characters sit well with the polished tannins. Deceptive, as this is long and quite serious, yet it slips down with ease.
Penley Estate – Shiraz – Hyland – 2014 (17.9pts – $30). Menthol and red currant/berries to the fore on the nose, carrying through to the palate. Again, medium bodied and not overly complex, but will develop well over the next 5 – 8 years. Fine tannins add to the mouth-feel, whilst the oak is barely perceptible. ($23 from Nicks).
Penley Estate – Shiraz – Atlas – 2014 (17.8pts – $20). Lovely nose of ripe berries and blood plum over white pepper and spice. The palate is almost plush initially, with the tannins kicking in on the close. There is a family resemblance to the Hyland, with red currant developing in the glass. This is an exciting wine for the price.
Juniper Estate – Shiraz – Crossing – 2015 (17.8pts – $23). There is a degree of plushness to the plum fruit that is very attractive, aided by supple spice notes. The spice continues on the palate, with the plum flavours carrying right to the close. Fine tannins and oak add to the appeal, pairing well with the mid-weight fruit. Will partner roast meats well. A modern, well-made wine that will be excellent value drinking over the next 5 years.
Flametree – Shiraz – 2015 (17.7pts) A riper, richer wine than many from Margaret River, with cedary oak, firm tannins and chewy texture. Clean and bright, this remains balanced and focussed, though this would benefit from a few years to settle down.
Howard Park – Shiraz – Flint Rock – 2014 (17.7pts – $28). Quality fruit here, though quite closed and inky. The menthol and plum/berry notes build with air. The palate is long and textured, with minimal oak apparent. The fresh acidity ensures that this will be a great match with food now, or on its own over the next 10 years.

Wynns – Shiraz – Coonawarra – 2015 (17.7pts – $25). Another fine wine from this illustrious label. Restrained and well made, the red berry and menthol characters building in the glass. On the palate the fresh acidity is the main feature now, but there are ripe fruit characters underneath. Good line and length, this would be good with a rich Bolognese, but is sure to age well for 10+ years. Ridiculous value at under $14 from Dan Murphy.
Ad Hoc – Shiraz – Middle of Everywhere – 2015 (17.6pts – $21). Pretty ripe berries on the nose, with redcurrant and supple spice building on the palate. The fine tannins and restrained oak contribute to a silky mouth-feel, which is very moreish. An attractive wine that is so easy to drink now.
The Lane – Shiraz – Block 5 – 2015 (17.5pts – $25). Ripe fruit in the plum spectrum. The palate is silky and refined. Only medium bodied, but excellent drinking. The souring acidity ensuring that this will pair with food well.
Deep Woods – Shiraz/Malbec/Grenache – Et Al – 2014 (17pts – $20). Intense fruit in the blueberry spectrum. Textured and slightly chewy, the tannins tighten on the finish. An honest red wine that provides uncomplicated drinking.