Seppeltsfield – New Release – February 2018
Barry Weinman: 11th February 2018
After 167 years of producing fortified wines under the Seppeltsfield label, the winery has launched a new range of table wines. The initial release is made up of a Riesling, Grenache and Shiraz, all in brilliant new packaging.
The Riesling comes from the Garden of Eden vineyard which sits at an elevation of 400m in the Eden Valley, whilst the Shiraz is from a number of vineyards across the Barossa.
The Grenache was the highlight for me. The fruit came from old bush-vine Grenache from the Great Terrace vineyard, and is young, fresh, fruity and oh-so-drinkable. Made without oak influence, the juicy red berry fruit is the main focus. Whilst perfect for early consumption, this did take a day or so for the fruit to really open up, so a year or two in bottle would not hurt, or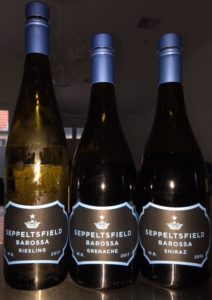 an hour in a decanter. Drink at cellar temperature (18⁰-20⁰).
These wines are the first in the new range of wines that will also include premium and ultra-premium wines over the next few years.
Reviewed
Seppeltsfield – Riesling – Barossa – 2017 (17.5/20pts $25). A more generous style, with citrus and even some stone fruit on the nose. There is an explosion of vibrant citrus fruit on a palate which feels just off-dry, resulting in a finely textured and elegant finish. Excellent drinking now, but five years in the bottle will not hurt.
Seppeltsfield – Grenache – 2017 (17.9/20pts $25). This is really pretty. Opens with fragrant ripe fruit that is vibrant and crammed full of red berry fruit. The palate is fresh, fleshy and fun, with cherry, berry and plum-like notes. The juicy fruit is offset by fine tannins and refreshing acidity, with no oak to speak off. Great with a bowl of pasta, or try a few years in the cellar. Drink at cellar temperature (18-20 degrees)
Seppeltsfield – Shiraz – 2016 (18/20pts – $25). A more structured wine than the Grenache, with greater depth and density to the fruit. Ripe and elegant, the palate is textured and slightly chewy, with coffee notes to close. Although quite tightly knit, this represents good drinking, but also offers cellaring potential.