Margaret River Cabernet Masterclass
Barry Weinman: 23rd June 2018
Margaret River has been blessed with a succession of good to very good vintages from 2007 to 2011. If anything however, the years from 2012 to 2016 were even better, with many wineries claiming to have made their best ever wines from these years. 2014 probably garnered the most praise, yet some winemakers are claiming their 2015 and 2016 vintage wines are even better.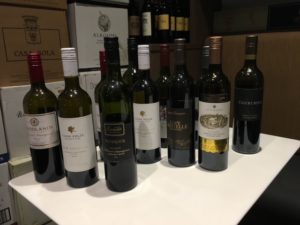 When it comes to selecting a dozen or so of the state's best Cabernets to put into a tasting like this, we are blessed for choice, with several well-established wineries producing some of the best Cabernet-based wines in Australia (and, perhaps, the world). There is also a new breed of wineries that are producing great wines, making the choice even more difficult.
So the selection below is not a definitive list of WA's finest. For example Howard Park's Abercrombie had every right to be here. All wines reviewed however, clearly deserve their place on the list.
The tasting served to highlight both the tremendous quality and the value that Western Australian Cabernet can offer, when viewed on the world stage. With the best examples from France and the USA costing upwards of $1000 per bottle, most of these wines are cheap by comparison (at $500, the exception is Cullen's Vanya).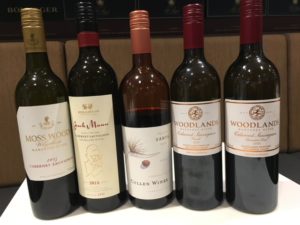 The real value starts with the Jack Mann (equal top wine) at around $100, and the wines selling for less than $100 must surely be considered bargains! For me the greatest value was offered by:
Evans & Tate Redbrook: $40 (2013 vintage currently available from the winery)
Deep Woods Reserve: $65 (2015 vintage currently available from the winery)
Leeuwin Estate Art Series: $69 (2014 available from the winery)
Cape Mentelle: $80 (small quantity of 2014 available from Lamont's)
Cherubino Frankand River: $83 (2015 available from the winery)
Houghton Jack Mann: $100 (though can be picked up cheaper)
A special thanks to the team at Lamont's Cottesloe for hosting this tasting!
Reviewed
Cape Mentelle – Cabernet Sauvignon – 2014 (18.6/20pts – $80). Dark and brooding, this is somewhat of a beast right now. The palate has chewy fine tannins, is textured, long, and has a defined minerality to the acid driven finish. The fruit really needs time to fully express itself making this wine a 20+ year proposition. Will get higher points in time.
Cherubino – Cabernet Sauvignon – Frankland River – 2014. (18.8/20pts – $83). This wine possesses a degree of minerality that is not often seen in Australian Cabernet. Very long and fine, with the fruit persisting to the close. There is great depth to the fruit and a balance that few in this line-up could match. A charming wine that will be at its best with a great steak if served now, but will continue to improve for two or even three decades.
Cullen – Cabernet Sauvignon – Vanya – 2015 (18.7/20pts – $500). Closed and subdued, this is firm and unyielding, yet remarkably, presents with a near seamless palate transition. Long and fine, but needing years for the fruit to emerge and show of its beauty. Brilliant, but be patient!
Deep Woods – Cabernet Sauvignon – Reserve – 2014 (18.8/20pts – $65). Supple blackcurrant and cherry fruit, with hints of spice and a savoury lift from the oak. The palate is refined, balanced and very long. The fruit lingers, eventually giving way to fine tannins that build on the finish. Tasting this superb wine was a near religious experience!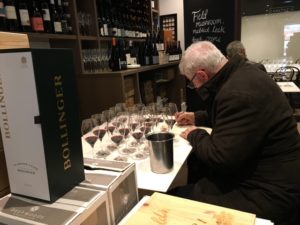 Evans & Tate – Cabernet Sauvignon – Redbrook – 2013 (18.7/20pts – $40). This is a powerful, yet compact wine of great merit. There is seductive blueberry fruit, with menthol and a touch of eucalypt adding interest. The fine grained tannins support the fruit beautifully, with blueberry and spice the main features on the palate. Ripe and focussed, this wonderful wine has great length of flavours. Showing the first signs of development, this wine continued to improve in the glass for some time and is great drinking now (or in 10 years). Unbelievable value for money!
Houghton – Cabernet Sauvignon – Jack Mann – 2015 (19/20pts – $100). Brilliant colour. This wine shows everything good about Cabernet. Great quality fruit, with blueberry, spice, blackcurrant and a hint of eucalypt married to fine grained cedary oak. The tannins are a treat to behold, as they add texture and depth, without detracting from the fruit in the slightest. A truly effortless wine that could be drunk with pleasure now, or any time over the next 20 years.
Leeuwin Estate – Cabernet Sauvignon – Art Series – 2014 (18.8/20pts – $69). Wonderful wine! Silky red fruit is paired to an almost earthy, textural palate, making for a powerful and impactful wine. Mulberry and spice notes abound, with the fragrant fruit really building with air. Hints of cassis, minerals, and fine tannins carry the palate to a very long close.
Mosswood – Cabernet Sauvignon – Wilyabrup – 2015 (18.6+) A crackingly good wine, with bright, succulent fruit married to souring acidity and fine tannins. Approachable and easy to drink, as the tannins are so very fine, yet this will also develop more depth with time in the cellar. Subtle and elegant, the supple palate has great length.
Vasse Felix – Cabernet Sauvignon – Tom Cullity – 2013. (18.8/20pts – N/A). The perfumed violet aromas are a highlight, though there is a degree of restraint to this wine at present. The palate combines berry fruit with spice, cedar and a touch of vanilla/coffee notes to close. The mouth-feel is amazingly supple and silky, with no rough edges on the very long finish. Great wine.
Vasse Felix – Cabernet Sauvignon – Tom Cullity – 2014 (18.9/20pts – $160). Fresher, tighter and more restrained than the 2013, with prodigious yet fine tannins and ripe black fruits on the palate. This is powerful and intense, but needs years to come around. Really blossomed after an hour in the glass, but is a 20 year+ proposition. Magnificent.
Woodlands – Cabernet Sauvignon – Matthew – 2014 (19/20pts – $150). Blueberry, redcurrant, violets and gentle spice on the nose. This is quite a contrast to the 2014 Tom Cullity, with an explosion of bright red fruits on a palate that is long, silky and deliciously supple, though it does get quite grippy with air. Excellent oak use supports the fruit perfectly. Whilst this is approachable now, this is a 10-20 year proposition.
Woodlands – Cabernet Sauvignon – Russel – 2015 (18.8/20pts – $150). The brilliant ripe fruit is fragrant and supple. There is also an amalgam of savoury notes that add depth, texture and interest. Coffee, cedar and cinnamon all come to mind. The palate is finely textured, with the silky tannins and great depth to the fruit. One of the best drinking wines in the tasting, but also capable of extended aging.
Woodlands – Cabernet Sauvignon – Clementine Eloise – 2016 (18.9/20pts – TBC). Pre-release sample. Remarkable poise for such a young wine. Refined balanced and oozing elegance, the pretty, ripe fruit has been skillfully handled, with the supple oak adding depth and texture. Long, supple and seamless, with blueberry fruit and a touch of menthol. A totally delicious wine that has the depth to age well for a decade or more.
Xanadu – Cabernet Sauvignon – Reserve – 2014 (18.7/20pts). Juicy redcurrant and plum fruit over menthol and herbal notes here, reminding me of Coonawarra. The palate is very long, with the fruit the main focus. The oak tucked away nicely, adding textural notes on the close. Not as big as some here, but there is great quality fruit and wine-making on show. Can be drunk now with pleasure, but also very age-worthy. Brilliant!