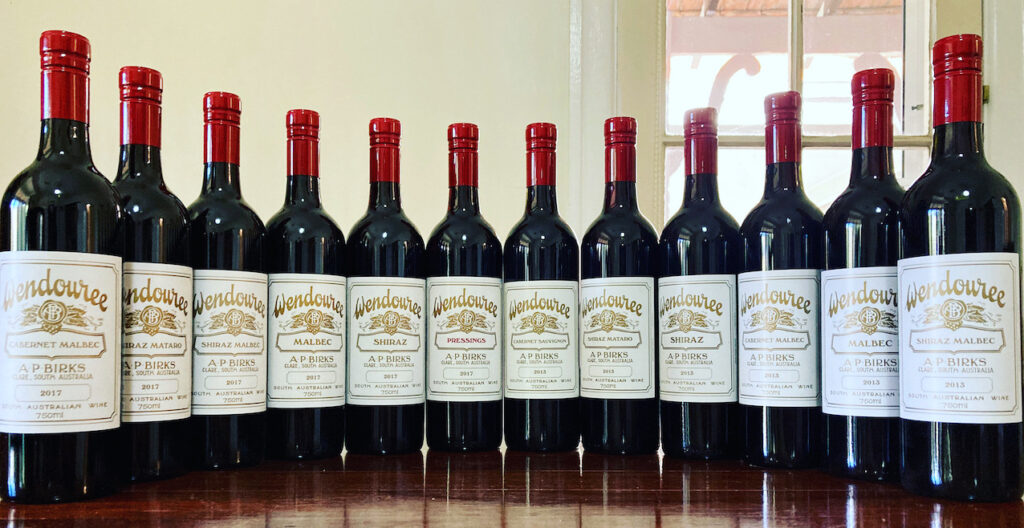 Wendouree: 2013 & 2017 Vintage Review
Barry Weinman: 11th October 2020
With the imminent release of the 2018 vintage, I took the opportunity to open a cross-section of wines from both 2017 & 2013 for the tasting panel to see how they are developing.
The wines are incredibly hard to find, so I had to take a few deep breaths before opening them. Yes, there was the cost of opening twelve bottles of Wendouree reds., but It was more to do with the fact that this represented a significant portion of my allocation for each vintage.
In 2018 for example, I was only able to secure three bottles of each of the wines.
But I am so glad that I did so for several reasons.
Firstly, the wines are truly outstanding. Tasting the 2013 Shiraz, for example, was a spine-tingling experience. One of Australia's greatest red wines???
And many of the others were not far behind, with many scores between 18.5 and 19. This consistency of quality across the range is something that few can match.
For me, the Shiraz and Cabernet are the pinnacle, closely followed by the Cabernet/Malbec. The Shiraz/Malbec and straight Malbec and the Shiraz/Mataro just a touch behind perhaps, but still great wines in their own right.
Secondly, it gave the panel the opportunity to compare and contrast the two vintages from a style perspective.
The 2013s' were classically styled, with precise (if restrained) fruit and restrained structure. Everything is in its place and it is slowly starting to open up.
In contrast, the 2017s' had an immediacy to the red berry fruit that was both surprising and delicious. Yet the trademark tannins and structure make these just as age-worthy.
Both are great, with strong support for both from the panel.
Finally, it also gave glimpse at how the wines evolve in the short term.
James Halliday recently commented that Wendouree releases over the last ten years have been more approachable at an early age and went so far as to say that he would be drinking some of these in the near future.
But I take a slightly different view. Wendouree reds have always been about elegance and restrained power. And these wines are no different. It was fascinating to see how they opened and evolved in the bottle over the following few days.
On day two and three, they were quite beautiful to drink, but it was clear that they will be at their best decades into the future.
But if you wanted to choose one to drink now, my pick would be the Malbec. Fragrant, delicious and a beautiful wine.
2013 Vintage
Wendouree – Shiraz/Mataro – 2013. Firm and structured, but the purity of fruit sits above the tannins and fine oak. Not quite silky at this stage, but elegant and very refined. The textural components build on the finish. With air, the power becomes palpable. Density increases, but the balance and elegance remains. Almost medium bodied. 18.4/20
Wendouree – Shiraz/ Malbec – 2013. More depth and power to the fruit compared to the Shiraz /Mataro. The palate is a delight. Savoury hints, but the pure (mulberry) fruit is the star. Tannins and oak are invisible, yet add a veneer of structure that gives this wine great balance. Superb, seamless, fine. 18.7/20
Wendouree – Malbec – 2013. Possesses a wow factor. Lifted ripe berry fruit combined with elegant structure and super fine tannins. Silky, yet the finish gradually gets closed down by the structural components. Elegant and refined, this is a star. 18.7/20
Wendouree – Cabernet /Malbec – 2013. The fruit here is spectacular! Focused, precise and pretty. The palate is a revelation; layers of blue berry fruits and supple, savoury, structural notes. Remarkably elegant and fine, given the innate power that lurks beneath the surface. So long and dense. Now to eternity. 18.9/20
Wendouree – Shiraz – 2013. An unbelievably good wine. Fragrant, perfumed and vibrant, with the gentlest of savoury oak, combined with fine tannins that slowly build across the finish. Remarkably elegant for a wine of such depth and power. Liquorice and spice notes build with air. The overall favourite wine of the panel. 18.9/20
Wendouree –Cabernet – 2013. Typical Clare mint and eucalypt sitting over the most precise and elegant fruit that you could imagine. More structural components than the shiraz, with concentration and breathtaking depth of fruit. Blueberry, blackcurrant and so much more. A remarkable wine. 19.3/20
2017 Vintage
Wendouree – Shiraz /Mataro – 2017. Beautiful lifted fruit on the nose. Again, fine and elegant, but this has a little more fruit weight up front that needs time to open up. The raspberry and cherry fruit is supported by supple oak. With air the fruit builds and looks very pretty and pure. Great wine. 18.6/20
Wendouree – Shiraz /Malbec – 2017. Riper and a little bit of plum over the berry fruit. Taut and structured, with higher acidity, this is the most closed of the wines so far. Impressive, but not as approachable as the others are right now. Needs years. 18/20
Wendouree – Malbec – 2017. Riper, with an almost juicy character to the fruit complemented by oak that is near invisible. Higher in acid, this needs time for the fruit to settle down and open up. But with air, this really shines becoming quite delicious. 18.5/20
Wendouree – Cabernet/Malbec – 2017. Wow wow wow. Spectacular fruit. Ripe and powerful, with the succulent berry notes the main focus. Sure, there is plenty of tannins and acid, but the fruit is the primary focus. Easy to overlook the seriousness of this wine given the immediacy, but cellaring will be rewarded. With air this is quite remarkable. 19/20
Wendouree – Shiraz – 2017 If possible, this was even better than the 2013. The fruit is vibrant and lifted, with more in common with Grand Cru Burgundy than a typical Australian Shiraz. Very long and supple, the wine-making inputs invisible. Words escape me. 19.2/20
Wendouree – Pressings – 2017. I was not expecting this to be just so good. Refined, elegant and long, with lovely blueberry fruit the main focus. The acid balance is brilliant, leaving the palate alive and fresh.. Is it the ultimate food wine? It's certainly the best drinking young Wendouree that I can remember. (Yet the powerful tannins are palpable underneath.) 18.5/20