Barry Weinman: 16th December 2020
Let's be clear: glasses make a difference in two important ways.
The shape primarily affects the aromas that you perceive coming out of the wine related to surface area, as well as how the aromas are concentrated at the top. But the shape also plays an important role in where the wine lands on your tongue, which affects flavour perception as well.
The second important feature of a good glass is the presence of a cut rim. Cheap glasses tend to have a rolled rim, which theoretically makes the glass stronger and is presumably cheaper to make. The rolled rim works like a speed bump for the wine, impeding the smooth flow of wine onto your tongue.
A cut rim, however, delivers the wine onto the palate in a precise fashion, impacting on what flavour characteristics are perceived first.
If money is not an issue, then several companies will happily sell you a different glass for each type of wine that you are drinking. But not only is this very expensive, it is also impractical, as over the course of a dinner party, you will go through dozens of glasses.
I have been doing extensive research over the last few months and came to a surprising conclusion: there is no single glass that is perfect. They all accentuate slightly different characteristics of a wine.
In general, a glass should be tulip shaped, so that the aromas are concentrated at the top. But the shape of the bowl affects the fruit characters. A wider bowl accentuates the berry aromas, whilst a narrower bowl tends to accentuate the structure (making the wine more tannic).
I also prefer a glass with a stem. Picking the glass up by the stem prevents the bowl from getting dirty, ensuring the wine looks as good at the end of the evening as it did at the start. But importantly, by using the stem, it stops your hand from warming up the wine too quickly.
Glasses do not need to be expensive. You can buy perfectly acceptable glasses from the big chains for only a few dollars per glass.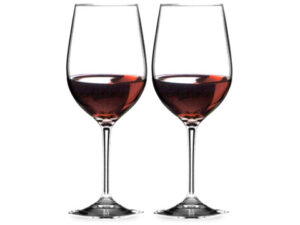 For me, the best all-purpose glass is the Riedel Vinum Riesling Grand Cru/Zinfandel glass. ($40). It makes everything from Champagne to Shiraz taste good, is attractive and is easy to fit into the dishwasher. I have been using this for years at home, and it is surprisingly durable.
For poolside entertaining, the Plumm Unbreakable Red+ ($40 for a set of four) is a versatile glass made from unbreakable polycarbonate. An excellent, affordable compromise.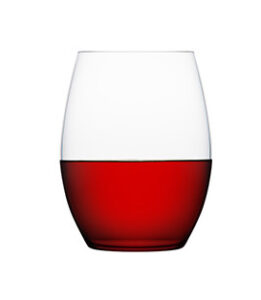 NB. Whilst a good glass may be a bit more expensive, it is a small investment compared to the cost of the wines that you will put in it over its lifetime. If it only makes a small improvement to the enjoyment of the wine, then this is still a good investment.