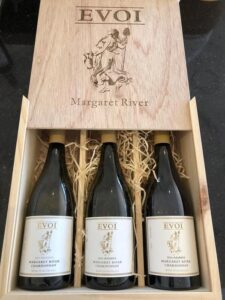 Evoi: Pre-Release Tasting – Sept 2021
Barry Weinman: 10th September 2021
I first became acquainted with Evoi wines 18 months ago at the behest of Brendan Jansen MW. He raved about the quality and value on offer. At the end of my visit, I was in full agreement.
I was also impressed that the wines had been held back and released with some bottle age.
Last week, Matt Holden (the Western Australian distributor) popped in to show off the current vintage wines and give us the opportunity to try some of the future releases.
As always with this type of exercise, it was fascinating to see how the vintage variations played out in the wines. The quality was uniformly high, but there were subtle variations in the style.
Prices for the newer vintages are on the rise, so now is a good opportunity to stock up on some of the aged wines.
NB. These wines were not tasted blind, so points are only a guide.
Reviewed
Evoi – Sauvignon Blanc/Semillon – 2017. On the nose, the vibrant, herbaceous SB fruit comes to the fore, whilst on the palate, the creamy, textured, near seamless mouthfeel is a highlight. An excellent wine and great drinking at four years of age. 92-93pts – $28
Evoi – Reserve – Chardonnay – 2016. A lovely wine where the supple, elegant fruit is perfectly framed by fine-grained quality oak. Creamy and textural, with a slight savoury edge, this is both elegant but impactful. Gentle toast notes build on the finish. Dangerously easy to drink. 94pts – $69.
Evoi – Reserve – Chardonnay – 2017. This smells expensive, with curry leaf minerality reminding me of a powerful Corton. The white nectarine fruit is textured, reserved and slightly chewy, with gentle tropical and pineapple notes. Minerality builds on the finish. With density and richness, the power belies the cooler year. 95pts – $69.

Evoi – Cabernet Sauvignon – 2015. Serious fruit that has depth, texture and power. Impressive density of fruit for a wine at this price point and worthy of time in the cellar. A bargain. 93pts – $35.

Evoi – The Satyr – Cabernet Blend – 2014. Impenetrable density of fruit. There is so much on offer, but this is so tightly wound that you are assailed by the power without the fruit getting a chance to fully express its character right now. A special wine that demands a decade in the cellar to unwind. 95+pts – $69.
Evoi – The Satyr – Cabernet Blend – 2015. Like the 2014, there is real depth, but here the fruit has a chance to shine. Pretty Cabernet blueberry fruit, with supple oak adding complexity and texture. Not quite as powerful as the previous, making this a great medium-term drink whilst waiting for the 2014 to open up. 94pts – $69.

Evoi – The Satyr – Cabernet Blend – 2016. Here, the vibrant fruit and the skilled winemaking collide to make for a great drinking wine. Serious? Yes, but also full of life and personality. Worthy of time in the cellar, but hard to resist now. 95+pts – $69.