September New Release – Part One
Barry Weinman: 3rd September 2016
A couple of wines really impressed in our recent tastings.
The 2015 Petaluma Chardonnay is a delicious wine that is a little more generous than some of the wines presently coming out of Victoria and is all the better for it.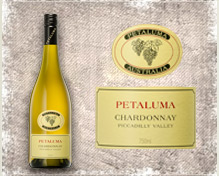 In the Cabernets, Fraser Gallop remains in top form whilst the wines from Woodlands and Cumulus offer value. The Cumulus Cabernet in particular is a stand-out, given that it is currently available for $17.50 online from the cellar door.
Chardonnay
Petaluma – Chardonnay – 2015 (18.3pts – $53). Quite rich and generous, with creamy oak characters, courtesy of barrel fermentation . There is fresh pineapple fruit combined with lemon and lime flavours. Great length, supple mouth-feel and balancing acidity. Delicious.
Lenton Brae – Chardonnay – Wilyabrup – 2014 (18pts – $60). Tropical fruits and lemon brulee. Supple and balanced, though the fruit is somewhat subdued at present. It is the mouth-feel and texture that really sets this apart. Long and fine, with an excellent palate transition. The oak adds depth.
Cabernet Sauvignon
Fraser Gallop – Cabernet Sauvignon – Parterre – 2013 (18.5pts – $50). Cooler climate Cabernet of some note. Supple blackcurrant fruit and menthol notes paired to fine tannins and linear acidity. Slightly chewy, though with near seamless palate transition, this needs 10 years to really hit its straps.

Lenton Brae – Cabernet Sauvignon – Wilyabrup – 2012 (18.3pts – $70). A fine wine here, with cherry and spice notes. Blackcurrant, plum, coffee/earthy complexity and cedary oak lead to a texture that is a little chewy. Long, this evolves in the glass. Needs 10 years to open up.

Cumulus – Cabernet Sauvignon – Climbing – 2014 (18pts $24). Pretty red fruits on both the nose and palate. Vibrant, lively and elegant, with succulent, ripe fruit and savoury hints. Delicious and a bargain. ($17.50 from the winery).
Woodlands – Cabernet Franc/Merlot – 2014 (18pts $26). Complex nose with cedar, blackcurrant, cassis and spice. The palate is quite dusty and earthy, with the quality fruit sitting within a framework of supple tannins and oak. Approachable, but sure to improve with a few years in the cellar. Great value.
Cumulus – Merlot – Climbing – 2014 (17.7pts – $24). Lighter colour, and a lighter style. A pretty, medium bodied wine of some charm. The red fruits are the defining character, with strawberry and plum notes. The finish is soft and supple, making for an excellent drink now. ($17.50 from the winery).
Lenton Brae – Cabernet Sauvignon – Lady Douglas – 2015 (17.5pts). Vibrant berry fruit leaps from the glass. The palate is forward and approachable, with a seam of graphite-like tannins running the length of the palate adding texture and depth. A touch astringent, so will marry well with food anytime over the next 5 years.
Lenton Brae – Cabernet Sauvignon/Merlot – 2015 (17.5pts – $26). A fairly straightforward wine with cherry and dark berry fruit over mint and eucalypt typical of Margaret River. The palate is long and flavourful with fine dusty tannins building on the finish. Really approachable now, but short term cellaring is also an option.