Barry Weinman: August 23rd 2015
Leeuwin Estate – Art Series Whites Wines
Leeuwin Estate is rightly famous for their Art Series Chardonnay. This is a wine of great quality that has set the benchmark for Australian Chardonnays for many years. As a result, it is easy to pay only scant attention to the rest of the wines in their portfolio. That would, however, be a mistake…
The current release of whites offers broad appeal. Of particular note is the Siblings SBS. This is a really interesting example, yet is made in an approachable, early drinking style, and at an affordable price.
Then there is the 2012 Art Series Chardonnay. Another spectacular wine under this label and a bargain when compared to other great wines of the world.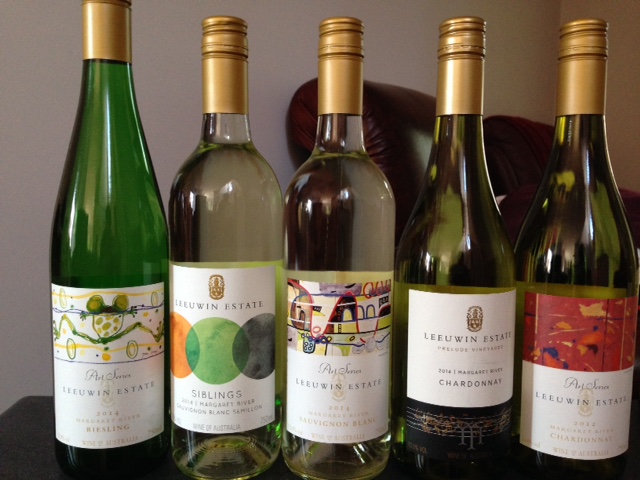 Reviewed
Leeuwin Estate – Riesling – Art Series – 2014 (17.5). (RRP $22). A notably different profile to the Rieslings from Clare and the Great Southern. Very pale in the glass. The nose and palate are restrained, tight and very steely. In the mouth there is bracing acidity to close. This is a neutral, food friendly style now, but is sure to blossom with 10 years in the bottle.
Leeuwin Estate – Sauvignon Blanc/Semillon – Siblings – 2014 (17.6). (RRP $23) Cut grass, fresh herbs and asparagus on the nose with tropical hints. The palate is quite complex, with grassy, savoury notes over a core of ripe cool climate fruit characters. Partial barrel ferment/lees stirring adds depth without adding overt flavours. There is just the right amount of residual sugar to balance the fresh acidity, making this an excellent drink now. Who needs food?!
Leeuwin Estate – Sauvignon Blanc – Art Series – 2014 (17.5 – 18). (RRP $32). Wonderful floral, perfumed fruit on the nose. The palate is quite dry and savoury, with delicate, precise fruit set against a textural background aided by barrel ferment characters. Restrained, with fine though plentiful acidity, this will be a joy to drink with seared scallops now, or on its own in a year or two.
Leeuwin Estate – Chardonnay – Prelude Vineyards – 2014 (17). (RRP $34). Very pale colour. Lively and fresh, with peach and tropical fruit characters and zesty acidity. Excellent early drinking and a good alternative to NZ SB. A satisfying drink that will gain complexity with a year or two in bottle.
Leeuwin Estate – Chardonnay – Art Series – 2012 (18.7+). (RRP $94). Relatively pale hue. The nose is fantastic! Complex, yet restrained, with lovely stone fruit notes. The palate is rich and textured, with citrus and white peach, over pineapple acidity. Very long and persistent, yet the intense fruit possesses a degree of restraint. The fine fruit and creamy oak meld into a seamless package. This is drinking very well now, but will reward after a few years in the cellar. Superb!