Barry Weinman: 10th September 2015
Western Australian Cabernet Sauvignon
Western Australia and Margaret River in particular, has had a string of excellent vintages stretching back to 2007. Whilst there have been some year-to-year variations, the consistency has been remarkable. The question is whether there is one year in particular that is even better than the others?
A number of wineries believe that 2012 was a particularly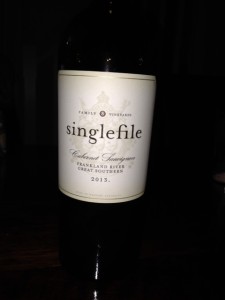 strong year. Others have suggested that their 2013s are even stronger.
In an effort to find out, the panel sat down to try a mix of wines from Western Australia to see if there were any obvious trends.
As to the outcome of the tasting, one thing is clear. There were a number of great wines from both 2012 and 2013. Remarkably, 9 of the 20 wines tasted made it to this review. Pick a good producer and you are sure to do well.
Recommended
Houghton – Cabernet Sauvignon – Gladstones – 2013 (18.7). This is a lovely wine showing ripe, yet refined redcurrant and mint fruit notes. Gentle, balanced and with poise, the very fine fruit is perfectly matched to the winemaking inputs. The tannins are initially silky, but develop fine grippy notes to close. Good now, though this youthful wine will benefit from many years in the cellar. (RRP $85).
Vasse Felix – Cabernet Sauvignon – Heytesbury – 2012 (18.7). Dense, powerful fruit here on both the nose and palate. There is mint and gentle herbs over red berry fruit. The palate is chewy and textured, with quality oak highlights. Really builds in the glass. Very long and powerful, this needs years to be at its best. A great wine. (RRP $90).
Flametree – Cabernet Sauvignon – S.R.S. – Wilyabrup – 2013 (18.5+). The fruit on the nose is both supple and subtle. On the palate this really shines. Plush, perfectly ripe fruit is paired with supple oak and fine tannins. There is intrinsic power to the fruit, but this is refined and very approachable. Lovely mouth-feel combines with excellent length on this remarkable wine. (RRP $58).
Leeuwin Estate – Cabernet Sauvignon – Art Series – 2012 (18.5+). Menthol and eucalypt, with a slight herbal tinge reflective of the relatively southern location of the vineyards. The palate shows fresh, bright fruit, with a savoury edge. The fine tannins, oak and acidity combine with the shutdown the fruit on the finish. Long, refined and age-worthy, with latent power. Give it at least 5 – 10 years, but will live for 20. (RRP $75).
Fraser Gallop – Cabernet Sauvignon – Parterre – 2012 (18.5) Menthol and red fruits, over spice highlights from the oak. The palate is fine, though quite closed initially. Silky and supple, with texturing oak and tannins. A wine of the highest quality that needs a few years to express itself fully. (RRP $45).
Woodlands – Cabernet Sauvignon/Merlot/Malbec – Margaret – Reserve – 2012 (18.5). Lovely fruit here. Gentle red and black berry characters over mint and spice. The palate is fruit forward, but the souring acidity keeps the whole package in check. Cooler region fruit that needs a few years to hit its straps. The fruit really builds on the palate and there is great length of flavours. A silky wine with the potential to age, there are similarities here to the fine wines of Bordeaux. (RRP $46).
Singlefile – Cabernet Sauvignon – Frankland River – 2013. (18 – 18.5). Less overt berry characters on the nose initially. The fruit on the palate is almost thick, with layers of generous black fruits over cedar and a hint of licorice/tar. The tannins are remarkably fine, dusting the finish and adding texture and depth. Almost seamless, this is very fine indeed and decent value. Now – 10 years. (RRP $37).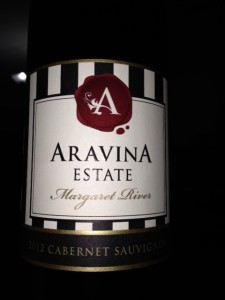 Aravina Estate – Cabernet Sauvignon – 2012 (18.2). Menthol is the defining character on the nose. This is rich and luxurious, with no rough edges. The palate transition is near seamless. With air, the blackcurrant (almost cassis) fruit starts to shine. The length is noteworthy. A generous wine that can be drunk anytime over the next 10 years.
Leeuwin Estate – Cabernet Sauvignon – Prelude Vineyards – 2012 (17.9). Bright fruit on the nose, in the red berry spectrum. The palate is fresh and lively, with the fruit the main attraction. Fine tannins, gentle oak and well judged acidity add to the drinking pleasure. With air, this gains more depth and structure, but is great drinking now. ($27.50 from the winery).